Harvey re-elected as Cornwall captain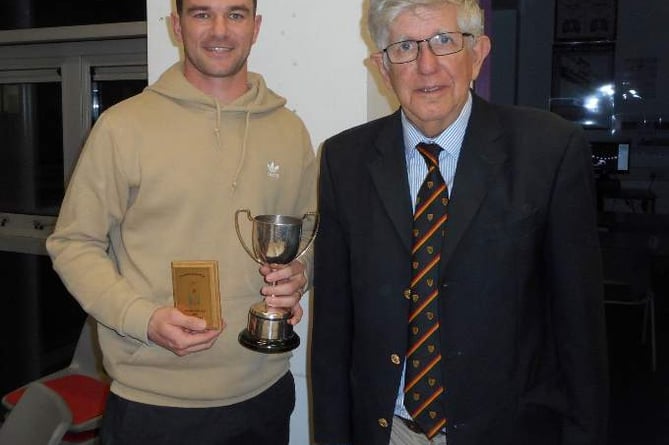 Cornwall Captain Scott Harvey presented with the Canynge Caple Cup by Cornwall club chairman Michael Williams
()
Subscribe newsletter
Subscribe to our email and get updates right in your inbox.
Former captain Tom Sharp was elected to the new post of Vice-Chairman and Mike Jelbert became Safeguarding Officer. Nicole Harvey joined the General Committee.
The meeting began by remembering the life of former President and Chairman Col Ronnie Potts, who passed away in November at the age of 93.
In presenting the committee report, club chairman Michael Williams reflected on a mixed season for the county team, with two wins and two defeats in the Trophy to narrowly miss out on the quarter-finals on net run rate.
In the Championship, Cornwall finished third in the new-look Division Two with a win, a defeat and two draws.
For the second successive year, the NCCA T20 competition was cancelled as COVID restrictions didn't begin to get lifted until mid-April.
In the Championship, 17 players played in the four games with debuts for eight players – Kian Burns, Chris Gibson, Ben Ellis, Craig Johnson, Scott Kellow, Joe Phillips, Ben Twohig and Ollie Westbury.
Matt Robins made 249 runs at an average of 41.50, Oliver Westbury 246 runs at 35.14 including the only century (124).
Ellis Whiteford was the leading wicket-taker with 18 wickets at 24.83 each and had the best return of 5-58.
In his financial report, treasurer Keith Hore reported a profit of £11,000 on the year.
He warned that things are likely to be very different this year with increased expenses.
ECB funding for the cancelled T20 competition had not been claimed back last year plus there were reduced professional fees due to unavailability.
The Canynge Caple Cup, for the outstanding player, and the Donald Cocks Cup for fielding, was won by Scott Harvey.
Karl Leathley won the Canynge Caple Colts Cup.
The Caerhays Cup, for the highest partnership of the season, was won by Ollie Westbury and Matt Robins for the 114 against Shropshire at Bridgnorth.
The Ron Tither Memorial Cup for Under-21 bowling was won by Ellis Whiteford.
The Arthur Lugg Cup, for outstanding services, was awarded to chairman Michael Williams, who has been in post for ten years.
Elections: President – EG Willcock; Chairman – JM Williams, FRICS, DL; Vice-Chairman – TG Sharp; Hon. Secretary - Mrs Anita George MBE, JP; Hon Treasurer – RK Hore JP; Captain – SA Harvey; Team Sec / Manager - GR Furse; Assistant Secretary MA Weeks.
Cornwall CCC Fixtures 2022 (all 11am starts)
Sat-Sun, April 9-10 – Somerset II at Taunton Vale (Friendly);
Sun, April 17 – Herefordshire at Brockhampton.
Sun, April 24 – Devon at Werrington.
Mon, May 2 – Wiltshire at South Wilts CC, Salisbury.
Sun. May 8 – Dorset at Wadebridge.
Sun, June 5 – Cornwall v Berkshire at Truro.
Sun, June 12 – Bedfordshire v Cornwall at Southill Park, near Luton.
Sun, June 19 – Cornwall v Hertfordshire at Redruth.
Sun, June 26 – Devon v Cornwall at Sidmouth.
July 10-12 – Devon v Cornwall at Sandford, near Crediton.
July 24-26 – Cornwall v Shropshire at St Austell.
August 14-16 – Wiltshire v Cornwall at South Wilts CC, Salisbury.
August 21-23 – Cornwall v Wales N.C. at Truro.
Sun, July 31 – Cornwall v Somerset CCC at Truro.