St Ann's Chapel taxi driver is now planning his fourth Ukraine refugees aid mission
Wednesday 4th May 2022 7:00 am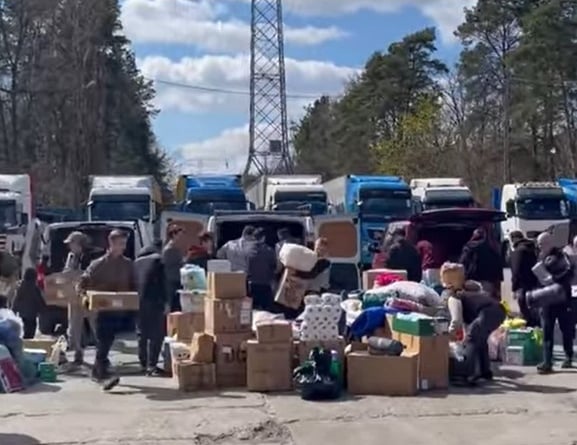 Volunteers in Poland unloading and sorting through some of the supplies brought by Darren's third aid convoy from Cornwall and Devon.
(Picture: Darren Tait )
Subscribe newsletter
Subscribe to our email and get updates right in your inbox.
TAXI company owner Darren Tait is now back in St Ann's Chapel after his third mission taking aid to Poland – and this time he has been able to bring a Ukrainian refugee family of five back with him and is already planning another aid mission.
Speaking to the Cornish Times after his return last week, Darren said that this third aid mission had been a journey of two halves, with some frustrations to be overcome when first setting out from the UK.
Over the last few weeks in preparation for the trip, there were fundraising concerts and quizzes, and a huge effort across Devon and Cornwall to collect essential items for those who have fled their homes in Ukraine, from mattresses and sleeping bags to toiletries, toys and teddies.
Since Darren first decided, a few days into the conflict, that he wanted to take a van-load of aid to refugees, the "Cornwall Sending Love to Ukraine" project has grown wings.There is now a website –www.sendinglovetoukraine.org–and a network of drop-off points for donations, with the main collection point at Pensilva.
The name of the project has been updated to include Devon, reflecting the fact that from Tavistock to Penzance, more and more people have come on board to support the appeal in any ways that they can.On the day before the trip, volunteers came together at the unit in Pensilva to pack up the vehicles.
Speaking on the day, Darren said: "These vans are testimony to the kindness, generosity and commitment from the people of Devon and Cornwall. To everyone who has donated, acted as a drop off, helped sort and load at the unit, and the drivers setting out tomorrow, we send you the biggest thankyou ever.
"We give thanks to everyone from Redland Building Supplies who weighed our vans, to wonderful little Freya who turned up today with hundreds of plastic school wallets she had put together herself.
"Without you all we would not be going. Without you this aid would not be reaching these people in such need."
Darren said the convoy set off at 5.30am on Thursday, April 14, as he had been told they needed to be at the Dover ferryport an hour and a half early for the 2pm sailing. But despite them arriving at the Kent coast at 11.30am, Darren himself was then not able to get on board a sailing until 6pm, although a few of the convoy's minibuses did manage to get on board the earlier vessel. No doubt the well-publicised problems with P&O ferries contributed to the delays.
The later sailing time meant that once they got on the road on the Continent the convoy then didn't arrive in Germany until 1am and, after stopping for the night at Poznan in western Poland, then had to be up again at 7.30am to continue on to Warsaw.
However, when they got to their destination centre in the Polish capital they found there were around 50 people waiting for them who applauded and cheered every one of the 13 vehicles as they arrived – something the members of the convoy found both uplifting and humbling. Local people then started immediately unloading the vehicles so the supplies could be taken to the Ukrainian refugees in need as soon as possible.
Darren said that once change from previous deliveries that shocked him was that a woman in charge apologised to him and explained in broken English that they would have to check over a lot of the items such as mattresses, bedding and clothing. She explained that this was necessary because it had been found with some supplies coming in from other locations that Russian spies had planted GPS trackers in amongst the packages of aid – something that could enable convoys or people to be located by missiles and so could prove fatal for those transporting them or for their recipients.
However, with the bountiful generosity that Polish people often show towards guests, Darren's team found that local people had laid on a buffet spread of food ready for their arrival – and then in the middle of it all a woman arrived with a pot of steaming hot stew. They discovered that as a bystander she had seen their convoy arrive, had made enquiries about where they had travelled from and had been so moved at the effort they had made that she had then promptly taken the stew intended for her husband off the stove and had brought it to give to them as she was sure they must be feeling very tired and hungry!
Darren said that kind of generosity of spirit shown by the Poles and Ukrainians had to be contrasted with the shocking information they learned that refuges had had to be set up for the many Ukrainian girls and women who had been raped by Russian soldiers during the invasion.
They also heard that double agents were gaining access to locations in Ukraine where desperate refugees were sheltering and hiding and spreading stories that if they fled across the border into Poland and other neighbouring countries they wouldn't find safety but instead would be attacked and trafficked. This meant some refugees arrived in Poland feeling initially very wary and frightened rather than feeling relief at reaching a place of safety.
However, once the items Darren's convoy had brought had been checked, the Polish supplies operation was now so efficient that they heard they had already reached the Ukrainian refugees who needed it by next day. Darren added that one of his volunteers who had links to an animal charity then travelled deeper into Poland to reach some specialist centres from which food was being taken over the border for the many dogs and other pets in Ukraine's towns and cities which had been left as strays due to the conflict
Darren said he was glad to have brought the Ukrainian refugee family of five back with him to St Ann's Chapel but felt frustrated that some other refugees he had hoped to have brought to England had had to be left behind due to the delays in the UK visas system. While he understood to a certain degree Government concerns over the risk of spies entering the country, this had to be set against the fact there were many desperate people needing a place of safety and shelter.
He said that the family he had brought back had been provided with accommodation in St Ann's Chapel but he now wanted help to find them work and means of support as to a degree he now felt responsible for the welfare. He said that the father of the household was a trained carpenter so if anyone in the area was able to provide work in that line it would be an enormous help.
Darren said the generosity shown by people in Cornwall and Devon in supplying items to take for Ukrainian refugees in Poland had left him feeling that he was lucky to live in a wonderful country and with wonderful people – and he was so grateful to those who had volunteered to drive in his convoys and had even personally borrowed or hired the vehicles taking part in the aid missions. He said they included not only taxi drivers like himself but also college professors, a nurse, builders and people from all walks of life. A total of 29 vehicles had now been in his three convoys to Poland and there would soon be a 30th as he was now beginning to plan his next aid trip.
Darren says that items which are particularly needed for the refugee families are nappies, baby food and wet wipes, plus medicines such as Calpol, Ibuprofen and Paracetamol. He said that people had shown enormous gratitude on receiving even a single pack of nappies – and Paracetamols were extremely expensive for people even in Poland, let alone Ukraine. He added that another item which was now sadly increasingly needed was body bags to be taken across the border as the death toll in Ukraine continues to mount. Darren's aid efforts are now being arranged in conjunction with the organisation Cornwall and Devon Sending Love to Ukraine.
Making an appeal on Facebook on Sunday (April 24) in which he announced that Selleck Nicholl Homes had kindly given him an extension on using a unit at Polhilsa Business Park at Stoke Climsland for storing aid, Darren said of his next trip: "It's full steam ahead with our next aid mission. We will be leaving 31st May going through to Warsaw. This time there will be two types of aid. We will be taking the humanitarian aid, the nappies, the wet wipes the baby food – the baby food, the baby food, we really really need the baby food – and we also need items like toiletries sanitary towels, tampons, the usual things we've been collecting all along. Paracetamols, Ibuprofen, cold and flu medicine and sun cream – the weather's starting to get warmer so we've got to start thinking about what they'll need moving forward.
"And of course the other thing we've got to start thinking about is for the soldiers actually fighting on the front line. This is a little bit more complicated – body bags, splints, tourniquets, trauma kits, anything to do with trauma bandages. And then we're going to do something similar to what we did with love in a bag, it's love in a shoebox…. These ones are going to be aimed at going to the front line." In a previous video Darren outlined that items that might be needed included anything helping to make like more comfortable for the troops such as shaving kits, underwear, bandages and so on.
He added: "If you have a large van and you've got the time from May 31 to June 5 then please get in touch. Come to the unit and talk it over with us. Let's make this the biggest mission yet. Please bear in mind this is over the Queen's Jubilee weekend but we don't think the Queen would mind - I really don't, we've not checked it out with her but maybe we'll drop her a line and ask."
At the present time £10,280 of the page's current £15,000 target had already been raised.
Comments
To leave a comment you need to create an account. |
All comments 0