Man's quest for home highlights Cornwall's housing crisis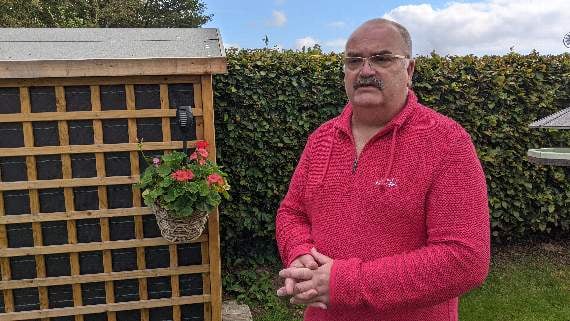 Steven Lomas, who has just a couple of days to find a home for he and his family
Subscribe newsletter
Subscribe to our email and get updates right in your inbox.
A MAN whose family has been given notice to leave their home says he is between a rock and a very hard place and at a loss to know what to do next.
Steven Lomas currently lives in a village near Liskeard with his wife and daughter, in a house they have rented for more than five years. They've been given notice to leave by October 11, and Mr Lomas says it has been impossible to find somewhere else.
Mr Lomas, formerly a programmer setter who has worked for Rolls Royce, GE and others, gave up a 38-year career to care for his wife and grown-up daughter, who have severe mental illness including agrophobia, depression and anxiety.
Mr Lomas says that he can afford the monthly cost of private rental but there's a dire shortage of properties to let. He's a reliable tenant who looks after the property very well, but he faces the added difficulty of competing against other prospective tenants who might be the preferred choice. As he and his relatives are benefits recipients, some agents require that he provides a guarantor, and certain landlords, given a large choice of applicants, will choose a working family in preference.
The situation faced by the Lomas family highlights a worsening crisis in all aspects of Cornwall's housing sector.
Mr Lomas sought help from Cornwall Council as soon as he was served notice. He was put on the social housing register, a list which has around 19,000 applicants in the county.
"I was told to bid for property each week, but told that I wouldn't get one, because there are so many people applying," he said.
"I was advised to stay in the property until after the notice date had passed, when the landlord would have to apply to the court to evict us, which would take some time. The housing officer advised me not to leave until the bailiffs were at the door.
"She said we would then be re-housed in temporary accommodation, which could be a caravan, shared accommodation , or a hotel.
"Our animals – we have a couple of cats and a dachshund – would have to be re-homed."
Mr Lomas says that he doesn't wish the slur of eviction to be on his character, and he feels this could lead to him being blacklisted by agents in future. He doesn't want to put his landlord in the position of having to force the family out through the courts. He says he has a good relationship with the landlord, who is in his 80s, in poor health, and needing to move from elsewhere in the country back into the house he owns to be close to his own relatives. And he says waiting to be forcibly evicted would be "traumatic and unnecessary" for his wife and daughter.
"My wife cries each night because she's frightened to death," he said.
He's written to the leader of the Council, to MP Sheryll Murray, and even to the Prime Minister, hoping that his problem will be heard by someone who can help.
"For the council I think the problem is the mountain is just too big to shift. Everybody will speak to you, just nobody can do anything about it," he said.
The Cornish Times spoke to several letting agents in the Liskeard area and all confirmed there is a huge shortage of properties to rent, with one saying the sector is in "crisis".
Many landlords are selling properties or using them for holiday rental, asking prices have gone up, and agents are seeing anywhere between 20-150 enquiries on each property. One agent said it was his "most challenging year" and that a huge portion of the working day was spent on fielding enquiries. Another working locally said that at one point she couldn't register anyone because she literally had no vacant properties on the books.
"It's hard to keep delivering the same news that there aren't properties available," she said.
"I had somebody who burst into tears."
We asked Cornwall Council what its policies were around re-housing people who are nearing the end of their tenancies and facing homelessness or eviction. The local authority gave The Cornish Times the following statement:
"We sympathise with the position that some residents are finding themselves in as Cornwall faces extreme pressure on the availability of housing, with 19,130 households currently on the Homechoice register.
We?are committed to providing support for any resident?threatened with homelessness and urge anyone who finds themselves in that position to contact Cornwall Housing so that we can try and help prevent?it?happening.??We also support them to try and find alternative accommodation but?there is a high demand for?homes,?which includes our own housing stock, properties that we rent, or other accommodation.
Cornwall Housing has an early intervention service, which provides information and advice on housing options, but a statutory prevention duty under the Housing Act is applicable to assist anyone threatened with homelessness within the last 56 days of their tenancy.
The Council has put in place its own emergency accommodation and is buying and refurbishing more than 100 homes?to provide medium-term temporary accommodation.
Any person who falls into a priority category under homelessness legislation is entitled to request temporary accommodation if they have been served notice by their landlord and once that notice has expired. Wherever possible, however, we try and assist people to stay in their accommodation or to move to another home without the need for temporary accommodation."
Cornwall Council has set out a plan to tackle the various elements of the housing crisis called "Securing a Home for All."
It includes actions such as acquiring more temporary accommodation to house those in emergency situations, reducing the risk of homelessness for people in the private rented sector through mediation with landlords and financial support, bringing empty houses back into use, addressing the high number of second and holiday homes through the planning system, and 'accelerating' the building of affordable and open market housing.