Hunted star paddles into Cornwall on round-Britain world record attempt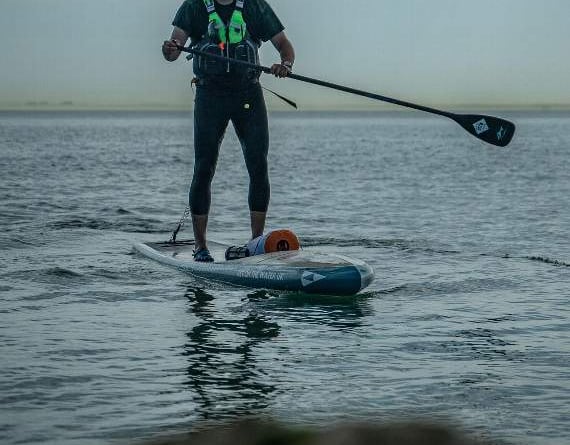 Jordan Wylie, attempting an SUP world record and raising thousands for refugee children
Subscribe newsletter
Subscribe to our email and get updates right in your inbox.
A STAND up paddleboarder on a mission to circumnavigate Great Britain has paddled into Cornish waters.
Jordan Wylie left Essex shores on July 26 in an attempt to be the first person in the world to Stand-Up Paddleboard (SUP) around Great Britain, a journey of over 2,000 miles.
It's a feat that has been attempted previously in recent years, but to date no person has been successful in achieving it, due to the extreme physical and psychological barriers, combined with the relentless and unpredictable British weather system all year round.
Jordan is no stranger to risk or danger: he served in the British Army for 10 years, and ran through the three most dangerous countries in the world in 2018, the subject of his latest book; Running For My Life. Last year he completed another world first when he rowed across the perilous Bab El Mandeb Straits, the gateway to the pirate infested Gulf of Aden, and coined the most dangerous stretch of water on the planet.
This year he was scheduled to run marathons in the 10 coldest places on earth but having completed Siberia, Yukon, Alaska and Iceland, his plans came to a grinding hold on his way to the North Pole when the world went into coronavirus lockdown.
Jordan will return to his polar running challenge in December by heading to Antarctica, however in the meantime he has come up with a new challenge - The Great British Paddle.
Jordan, who is also one of the stars of Channel 4's Hunted and Celebrity Hunted, is on a mission to inspire young people by building a school in Djibouti for refugees that have been displaced by the conflicts in Yemen and Somalia. He hopes The Great British Paddle can contribute towards the £100,000+ he has already raised in the last 12 months to finish the school build, now well underway.
Look out for Jordan if you're in the Roseland or further west in the next couple of days - this afternoon, he has paddled into the Pentewan and Gorran Haven area. Find out more and track his progress on the website at: https://www.thegreatbritishpaddle.com/track-live/