Funeral held for Dr Pamela Bearblock, the first woman doctor in South East Cornwall
Wednesday 18th May 2022 12:15 pm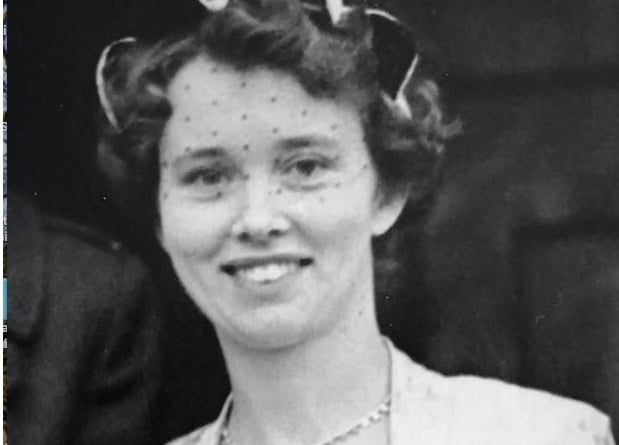 A photograph of the young Dr Pamela Bearblock, who was the first woman doctor in Saltash and South East Cornwall and who recently died at the age of 95.
(Picture courtesy of Dr Bearblock's family )
Subscribe newsletter
Subscribe to our email and get updates right in your inbox.
LONGSTANDING Cornish Times correspondent Audrey Miller reports that the funeral took place last month of former Saltash Doctor Pamela Elizabeth Bearblock, who passed away at the age of 95.
Dr Bearblock died on March 14, 2022, in Exeter.
She became the first woman doctor in Saltash and South East Cornwall, practising initially as Dr P Bearblock and in the same medical practice as her husband, Dr Charles Bearblock. This caused a bit of confusion and amusement when she started, as patients expected to see a male doctor, so she had to change her nameplate at the surgery to Mrs Pamela Bearblock.
She was in the Saltash practice for over 20 years. She also set up one of the first cervical screening services in South East Cornwall.
Dr Pamela Bearblock (nee Higgins) was born October 18, 1926, in London, the second of four children to parents Daniel and Elizabeth Higgins, who were both doctors.
During the Second World War, Pamela and her sister Marcella were at school in Bracklesham on the South Coast, but then as there were raids in that area, they were sent to a boarding school, Stoodley Knowle in Torquay, Devon, where they stayed for the rest of the war years.
Pamela eventually returned to London and studied medicine at University Cottage Hospital in the late 1940s. At that time, fewer than 20% of medical places went to women and there was still strong class and sex discrimination, such that only the strongest women candidates were brave enough to apply. Despite this she qualified in 1953.
She met Charles Bearblock, also a medical student, whilst studying at University College Hospital and they were married in December 1954.
Doctors Charles and Pamela had four children, Diana, James, Carol, and Christopher, all of whom have followed various impressive careers:
- Diana, a science graduate, was until recently Managing Director of Thrive, helping school staff support healthy social and emotional development in children and young people.
- James, a chemistry and PGCE graduate, is now Head of an international school in Geneva.
- Carol , an Addenbrooks-qualified State-registered nurse and midwife, now lives in Chicago, USA.
- Christopher, an aeronautical engineering graduate, is now an RAF Fighter Pilot.
For a time Dr Pamela worked in the pathology labs in Plymouth, which she gave up to have the family.
Dr Charles Bearblock died on February 4, 2008, and Pamela moved to live in Dartmouth in a flat they had bought for their retirement. She lived there independently for 10 years until October 2018, when she moved to live in an annex in the family home of her daughter, Mrs Diana Dewing, in Dartmouth, and then later to a care home, The Lodge, in Exeter, up until her death.
At the funeral service on April 1, 2022, at the Roman Catholic Church of The Sacred Heart, Exeter, her coffin was carried by her six grandsons: William Dewing, Luke Ducker, James Dewing, Adam Ducker, Matthieu Bearblock and Jack Ducker, and prayers were led by her granddaughters, Kate Dewing, Alicia Bearblock, Annabel Dewing, Sophie and Emma Bearblock. (Grandaughter Charlotte Bearblock was unable to attend).
Giving the tribute from the family, one of her daughters, Diana Dewing, said that their mother was highly intelligent, kind and patient, and with a sense of humour and she was always there for the family at all times and never really talked about herself. She was a calm and grounded person, never gossiped or meddled in other people's affairs, nor was she judgemental or critical of others. She always put her children, grandchildren and patients and others first. She was also steadfast in her faith. She added: "She was a role model for us all. One of a kind and a kind to all."
The service, including Holy Communion, was conducted by Father Albert Lawes, and the reading was by son Chris Bearblock, and the Gospel by Fr Anil. Hymns included 'Lord of All Hopefulness', 'Make me a channel of your peace' and 'Christ Beside Me'. Cremation followed and her ashes will be buried in the family grave at St Stephen-by-Saltash Parish Church.
The family mourners included her four children, grandchildren, nephews and nieces, and other family members as well as friends.
Donations in memory of Pamela are for UNICEF, United Kingdom (Emergency Appeal, Ukraine.) c/o M Sillifant and Sons, 19-20 Holloway Street, Exeter, EX2 4JD or via https://pamelabearblock.muchloved.com/
Report courtesy of Audrey Miller, Saltash
Comments
To leave a comment you need to create an account. |
All comments 0