Is trespass law the way to tackle illegal encampments?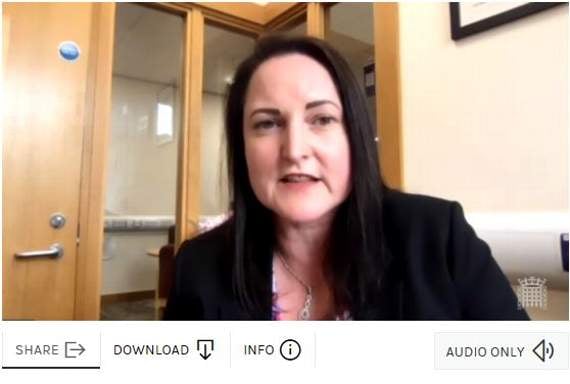 Devon and Cornwall PCC Alison Hernandez giving evidence to the Police, Crime, Sentencing and Courts Bill Committee yesterday
()
Subscribe newsletter
Subscribe to our email and get updates right in your inbox.
Devon and Cornwall Police and Crime Commissioner says that a new criminal offence of trespass is needed to help Councils and local communities tackle unauthorised encampments.
Alison Hernandez has welcomed the Government's plans to give police more powers to tackle these incidents, and said that councils in Devon and Cornwall are struggling to cope with the cost of clearing up after unauthorised encampments.
She was giving evidence to the Police, Crime, Sentencing and Courts Bill Committee which met yesterday.
The Government is proposing to use the new legislation to create a new criminal offence of trespass. Currently staying overnight on an unauthorised site is a civil offence.
Ms Hernandez has framed the legislation as a needed way of being able to deal with destructive behaviour that costs local councils money.
But critics of the Bill say that its implications could end up persecuting and criminalising not only travelling people, but other members of the public too. It's been argued that the trespass law could also be applied to rough sleepers, who could then be criminalised for trying to take shelter.
In respect of unauthorized encampments, Ms Hernandez said: "Let's be really clear about this, we are talking about a minority of people who do not want to abide by the laws of this country and we need this offence, I believe, to support our communities to send a very clear message that you don't do this type of behaviour," the commissioner told the committee.
The PCC cited the case of £18,500 worth of fencing installed at Drumbridges roundabout to stop people using the land, which was broken.
"They broke in, they have spotters who go ahead to break open the gates and then use the excuse that the gate's already open," she said.
CCTV was problematic, she said, because of potential human rights infringements.
"On Dartmoor where there was an unauthorised encampment, it became huge, and when they become huge no one can be moved because the amount of resource required is immense," she continued.
"The bailiffs were going to cost £50,000 a day and they'd still need police back up in order to do it.
"There's something about sending a message through this bill which is telling the public that we are on their side and that we don't support people who don't want to abide by the law."