Coaches call for league spot for second teams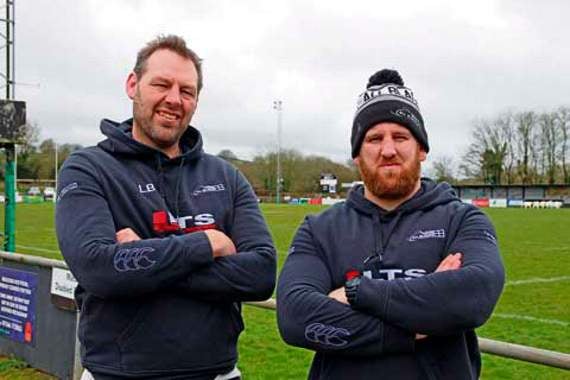 Ian Goldsmith (left) has joined Redruth director of rugby Nigel Hambly in calling for second teams to be able to join the league system in Cornwall. Picture: Paul Hamlyn
Subscribe newsletter
Subscribe to our email and get updates right in your inbox.
IAN Goldsmith and Nigel Hambly have made a joint call for the clubs' second teams to be allowed to join the league system, writes Nigel Walrond.
Both the Cornish All Blacks and Redruth, in particular, struggle to get regular matches for their second teams.
They have tried and failed to get included in the English League structure before, despite this being allowed in other parts of the country, with Cornish clubs voting against the proposal in April 2019, but they believe now is the time for the matter to be looked at again by the Cornwall RFU.
"What would really help is allowing second teams to come into the leagues, otherwise Redruth's seconds are not going to have any meaningful fixtures, and they need meaningful games to raise the profile and the standard of rugby," said All Blacks' joint head coach Goldsmith.
Reds' director of rugby Hambly commented: "It is about getting a structure where all our rugby is good, it has got a purpose and it has got an end to it.
"But we want our second team to play in a league – whether it be the Cornwall and Devon League – and make a good standard.
"Redruth is a nice place to come and play rugby, and people perhaps don't get the chance at the moment to come and play at Redruth.
"I think there needs to be a bit of a wake-up call with the Cornwall RFU.
"They need to look at themselves and decide where they want to go. Are the people on that board forward-thinking? I'm not quite so sure.
"They have got some new people on there who are perhaps trying to change things, and I get very frustrated that perhaps the lower teams get a bit more help, but you have got to change yourself.
"If we could play the Pirates or Exeter Chiefs tomorrow, we would do.
"We know we would get whacked, but we don't care. We would be challenging ourselves and striving to be a better side and a better club, and that's what it has got to be about.
"It has always got to come back to trying to be better."
Goldsmith says what has happened with the coronavirus pandemic makes it an ideal time to make changes.
"There is a huge opportunity, given what has happened over the last 14 months or so, to get young men or young boys wanting to carry on playing rugby.
"By not allowing Redruth's seconds to come into the league system, there will be players that will be lost to the game, and ultimately, it is about making sure you have got that flow of players constantly coming in and keeping it healthy."
Hambly added: "Goldy has hit the nail right on the head. Fortunately, people want to play at Redruth, and if they are not allowed to play at Redruth then they are probably not playing, and that can't be good .
"People sat on the Cornwall RFU board have got to see that.
"I hear them saying 'we are losing players and we have got to do something about that'.
"Well, it's pretty simple. Let people play rugby every week at a meaningful standard right across the board.
"And trust me, it will make Cornish rugby stronger right across the board.
"There will be some people who don't rise to it, but they will be the ones that aren't very well organised, aren't very well run.
"But the ones that are well run and well organised, and have a good structure, they will be the ones that benefit over the course of time."
Goldsmith commented: "Can you imagine St Agnes hosting Redruth seconds and pulling off a win and how that would make them feel?
"The big picture is keeping young men and women playing rugby."
Hambly was full of praise for his coaching duo of Louie Tonkin, who is a full-time Academy coach at Premiership side Exeter Chiefs, and Richie Kevern.
"Louie is the head coach/forwards coach and Richie is the player-backs coach, those guys have put in a huge amount of work this year and they are really good coaches," said Hambly.
"Louie is top class, you don't get involved with Exeter every week if you are not very good, and Richie has stepped up and taken on a tough role really well.
"They have really bought into what we are all about and deserve all the credit really.
"They have put this side together and they have done a great job."
What do you think? Do you agree with Ian and Nigel? Or do you think allowing second teams into the league structure will be bad for the game in Cornwall? Send your comments to