Dobwalls' resilience off the pitch matched by that on it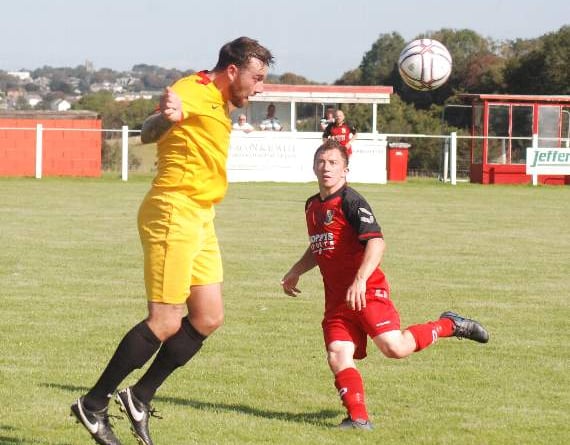 Dobwalls captain Sam Cooper heads clear against Sticker. Picture: Dave Potham
Subscribe newsletter
Subscribe to our email and get updates right in your inbox.
DOBWALLS can look back on a season that, at one point, looked like it might never happen, with tremendous satisfaction.
They had a position around mid-table in Premier West of the South West Peninsula League when the coronavirus pandemic struck in their first season back in a higher level, and with games in hand on those teams above them, plus they enjoyed a good League Cup run.
That's a pretty good return after a campaign which was threatened by a devastating fire last June that damaged the Lantoom Park clubhouse and changing rooms.
With the excellent help of League secretary Phil Hiscox, they played their first eight games away from home, but the determination off the field to bounce back from the blaze was matched by that shown by the players and management duo Simon 'Wes' Westlake and Ben Washam, and they marked their first game back on their home ground, on September 14, in style with a 6-0 victory over Sticker.
Striker Kelvin Fyneboy, their early-season signing from Ivybridge, scored a hat-trick in that game, and he went on to terrorise defences for the rest of the campaign to finish well clear as the club's top scorer.
But several other players also chipped in with plenty of goals, which was a trademark of matches involving the Dingos.
There were 110 in their 22 league matches played, while four cup ties produced an incredible further 38 goals, making it 148 in 26 matches – just shy of six a game!
Looking back on the season, Westlake commented: 'Finishing mid-table and proving to be a challenge for many bigger clubs eliminated perceived negative views, and we grew in confidence in our first SWPL season.
'A good cup run, not seen at Lantoom, provided positive distraction from league responsibilities.
'Player availability and limited finances has restricted further progress, but by all accounts, we over-achieved and highlighted what Ben and myself believed all along with the group of quality lads we had, and we were not far away from finishing higher in the table.
'Confidence and hard work, combined with a positive team ethic, has been our mantra, and we continue to grow on and off the pitch.
'We are a long way off many of the other teams historically attached to the SWPL, with the recent return of relegated teams, but providing we keep to our improvement plans, that are being supported through FA league finance, then we will continue to grow and become more established at SWPL level and have a brighter future.
'Our many thanks go to the players for their commitment and loyalty, and we will enjoy another positive season in the near future, with football inevitably returning, despite being up against the odds!'