Surf Wood For Good - Scheme for free surf hire around UK coast launches
Wednesday 13th April 2022 6:00 am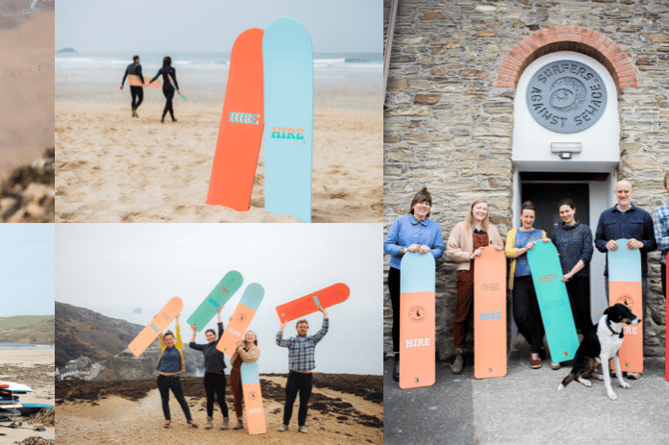 Surf Wood for Good
(Cornish Times )
Subscribe newsletter
Subscribe to our email and get updates right in your inbox.
A nationwide scheme to encourage sustainable surf and seaside fun is launching (Tuesday, April 12, 2022) with free bellyboard hire on offer at selected UK beaches.
Currently available in 24 locations around the UK coast, environmentally-friendly wooden bellyboards are now accessible to hire free of charge for anyone to enjoy the waves. The 'Surf Wood for Good' programme has been set up to offer beach-goers a positive alternative to buying harmful polystyrene bodyboards that often end up broken, littering our beaches, causing adverse environmental impact. Riding the waves is a happy, healthy and exhilarating way to enjoy our beaches but it shouldn't come at a cost to the environment.
Keep Britain Tidy estimates there are more than 16,000 of these low-quality polystyrene bodyboards discarded on UK beaches every year. Having been shipped across the globe from manufacturers, these cheap and fragile boards sometimes last as little as a few hours in the waves before they end up broken and in the bin or left on the beach. These snapped boards then release thousands of micro polystyrene balls into the coastal ecosystem, creating nature-threatening waste.
Every part of the process is detrimental to the environment, from the fossil fuels used in the manufacture and shipping of these boards to the devastating impact of the broken down polystyrene polluting beaches and marine environments.
From holidaymakers to year-round residents of all ages, the 'Surf Wood for Good' scheme encourages everyone to borrow the boards and enjoy the waves, with the goal to prevent the need for anyone to buy a cheap flimsy board.
The project is the brainchild of Jamie Johnstone from Dick Pearce Bellyboards, who was compelled to act after witnessing the sheer volume of snapped bodyboards he saw dumped at his local beach every day during the summer. Jamie decided to take action with this simple idea of teaming up with shops in key coastal locations, supplying each with a stock of wooden bellyboards to lend to beachgoers completely free of charge. The antithesis of the destructive polystyrene bodyboards or boogie-boards, the traditional wooden bellyboards made in the UK from sustainable wood and built to last offer an environmentally friendly alternative.
A part of our beach culture, having been popular in the UK since the early 1900's, bellyboarding is the original way of surfing, riding the waves prone on a small wooden board. In recent years, Dick Pearce Bellyboards has been leading the revival for this traditional way of enjoying the surf, which is accessible to all, any age and any fitness level, year round.
"It's one of the main reasons I first got involved with making bellyboards," Jamie from Dick Pearce Bellyboards says. "Apart from riding them as a little kid and knowing how much fun it is, I wanted to offer a sustainable alternative to those disposable boards. I wanted to make a version that lasts forever." Jamie continues "Bellyboarding is the most simple and fun way to enjoy the sea and riding waves. Low performance and all about connecting with nature. Our boards are built from entirely natural and sustainable materials, each one designed to last generations so perfectly fits with the ethos of being in the ocean."
The idea for the project was initially trialed at limited locations last summer, with the pilot scheme receiving overwhelming support and enthusiasm from beachgoers, environmental agencies and the coastal stockists. For Spring 2022, The Surf Wood For Good project officially launches with the project being rolled out nationwide and more boards available in multiple locations.
Committed to supporting 'Surf Wood for Good', Environmental charity Surfers Against Sewage commented: "Here at SAS, we're all about getting our communities involved in replacing single-use items for re-usable alternatives," the company said of their reason for getting onboard. "Plastic pollution is a huge issue, with eight million pieces of plastic entering the ocean every single day. Not only is Surf Wood For Good kinder to our planet, it provides endless fun in the water, where you can use the board over and over again."
"We love everything about this campaign," continues SAS, "Having the bellyboard hire for free makes it 100% accessible and we know as soon as anyone gives wood a try, they won't want to go back to the single-use polystyrene boards."
An interactive map and the full list of Surf Wood for Good outlets taking part in the scheme can be found on the Dick Pearce website. Each site has its own quiver of boards, each with their own vivid and unique bellyboard design.
One of the founding forces behind the Surf Wood for Good idea, Dan Bassett from the Little Goat Gruff store in St Ives worked with the Dick Pearce team to develop the scheme. Every year witnessing how many disposable plastic body boards that were purchased and dumped in his home town of St Ives, Dan's despair led him to seek a solution, with a meeting of minds, making contact with Jamie from Dick Pearce. "Surf Wood For Good is all about community and collaborative efforts to eliminate cheap toxic polystyrene from our coastal towns". Comments Dan.
"We hope that the scheme will inspire people to think about what they are riding in the waves and promote a positive change away from disposable plastic in general. I love the idea that each board handed out represents the potential for a cheap alternative to be saved from landfill." Jamie Johnstone, Dick Pearce Bellyboards.
Comments
To leave a comment you need to create an account. |
All comments 0