Remembering Cornishman William Bligh on the anniversary of the Bounty Mutiny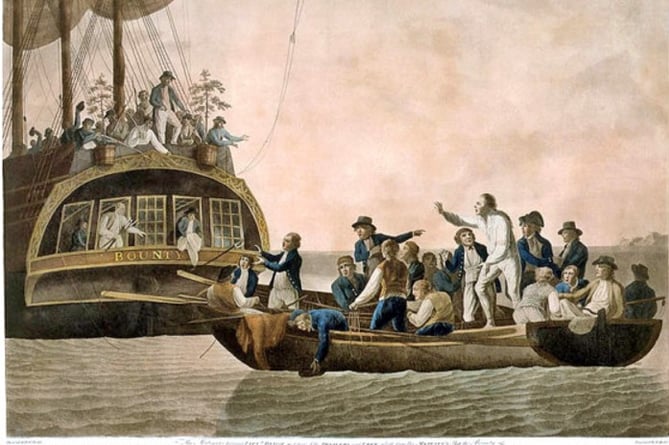 A contemporary engraving of Lieutenant William Bligh and fellow crewman being cast adrift in the South Pacific in the Mutiny on the Bounty. Published in the early 1790s it is believed to accurately portray many of those involved.
(Picture: File image )
Subscribe newsletter
Subscribe to our email and get updates right in your inbox.
TWO hundred and thirty-three years ago today, on April 28, 1789, there took place an incident that has inspired books, plays, films, websites and even musicals and had at its heart the personality of talented yet sometimes irascible Royal Navy lieutenant from St Tudy in Cornwall.
The Mutiny on the Bounty, with its story of British sailors becoming bewitched by the atmosphere of a South Sea island, has continued to grip the imagination of people to this day. So has the puzzle of what caused its leader, Fletcher Christian, to cast that Cornish naval lieutenant, his friend William Bligh, adrift, with 18 others, in an open launch on the world's largest ocean.
The personality of Bligh lay at the root of the mutiny, but his supreme talent for navigation also ensured the survival of those adrift in the launch - and he even managed to keep a detailed journal while sailing it nearly 4,000 miles to safety in Indonesia.
William Bligh was born on September 9, 1754, probably at his family home of Tinten Manor in St Tudy, near Wadebridge. However, he was not baptised until February 1757, after his family had moved to Plymouth because his father Francis was an excise officer there. The baptism took place in St Andrew's Church in the Devon port.
William was signed up in the Royal Navy aged just seven. He was ship's boy and captain's servant on HMS Monmouth from 1761-63 and In 1770, aged 16, he joined HMS Hunter as an able seaman, becoming a midshipman the following year. In September 1771, Bligh was transferred to HMS Crescent and remained in the ship for three years.
His next posting, in 1774, when he was aged 20, was as an able seaman, and later master's mate, on HMS Ranger, a vessel patrolling the Irish Sea to stamp out the remnants of the smuggling trade once centred on the Isle of Man, which had recently been acquired by the crown to end this illicit activity. Bligh's line of work brought him in contact with the island's Collector of Customs, Richard Betham, and with his daughter Elizabeth, later Mrs Bligh.
However, William's next posting, in 1776, was as master on HM Sloop Resolution, one of two vessels commanded by Captain James Cook on his third voyage to the South Pacific. Bligh perfected his navigation skills under Cook, whose voyages had seen him charting the coastline of New Zealand and eastern coast of Australia. The expedition visited Tahiti, the small but mountainous tropical island whose attractive natives seemed to live in a perfect paradise as far as Europeans were concerned.
However, disaster struck the expedition in Hawaii in 1779, when islanders bludgeoned Cook to death. A shocked Bligh and his fellow officers made the long journey back home, arriving in October 1780.
Bligh had clearly not forgotten Elizabeth Betham, for in 1781 he returned to the Isle of Man to marry her in St Peter's Church, Onchan - close to today's island capital of Douglas. Their reception was hosted by the Taubman family of Bowling Green house in the old capital Castletown - ironically Manx smuggling had helped them to build their fortune but the patriarch, John Taubman, had risen to become Speaker of the House of Keys in the island's Tynwald parliament while maintaining widespread merchant interests.
Placed on half pay by the Navy after the American War of Independence ended, Bligh obtained employment with his wife's Scottish uncle Duncan Campbell, a merchant trading with the Caribbean sugar plantations and who also ran prison hulks anchored in creeks at Woolwich, Portsmouth and Plymouth, including at Torpoint.
The Blighs lived until 1784 in the Manx port of Douglas, when their first child was christened at St Matthew's Church, but then they moved to Lambeth in London. It was there that William Bligh received a letter from Captain John Taubman, son of the House of Keys Speaker, recommending as a potential crewman young Isle of Man resident Fletcher Christian, who wished to learn seamanship.
Fletcher had actually been born in Cumberland in a fortified farmhouse on the edge of the Lake District, Moorland Close near Cockermouth, but he was a member of a leading Manx clan with marital connections to the Taubmans. Fletcher, his mother and a brother had moved to Douglas after his father's death to escape their Lake District creditors.
It is believed that William Bligh and Fletcher Christian made two West Indies voyages together on the ship Britannia and Christian became Bligh's friend and protege.
Bligh's knowledge of the Caribbean and Pacific is why he was chosen as captain when, in 1787, a new Royal Navy expedition to the South Seas was planned by Sir Joseph Banks, president of the Royal Society. The sugar planters of Jamaica wanted cheap sources of food for their African slaves. Banks, who had sailed as naturalist on Cook's first voyage to the Pacific on board the Endeavour, had been responsible for publicising the wonders of Tahiti to the British public and had written that its natives cultivated a tree whose green fruits - about the size of a melon - could be baked so the flesh became like bread.
Aware of their similar tropical climate, the West Indies sugar planters wanted breadfruit seedlings shipped to the Caribbean so they could be grown into trees and their fruit be used as food for their unfortunate African slaves.
On his Pacific voyages, Cook had used small, shallow-draft collier vessels usually employed in the coal trade between his native North East and London, as they could clear coral reefs. The Bounty - originally the Bethia, of Hull - was such a vessel. For the breadfruit mission she was fitted out as a floating greenhouse with very tight crew accommodation, something that would become a source of tensions on the long voyage.
It was inevitable that Fletcher Christian would be recruited for the voyage. Bligh also took on, at his wife's behest, another young Manxman, 15-year-old Peter Heywood whose father had been seneschal for the Duke of Atholl, the Scottish proprietor of the Isle of Man before its purchase by the crown.
Two of Peter's uncles were admirals in the Navy - one of them, James Modyford Heywood, had inherited wealth from family connections in Jamaica and had bought the mansion Maristow House on the River Tavy near Plymouth. This was a useful connection for a young man seeking a leg-up in the Navy.
The Bounty received orders to sail much later in 1787 than expected - she left Portsmouth in late December, leading to a stormy passage down the Channel. After a call at Tenerife for supplies, she sailed on to Cape Horn at the tip of South America, where she spent weeks battling storms in a bid to reach the Pacific before having to give up.
Instead Bligh headed to Cape Town, a Dutch outpost at the tip of Africa, for rest and recuperation. Contrary to the picture given by the 1962 Charles Laughton and Marlon Brando Mutiny on the Bounty film, Bligh was not a cruel captain who insisted on frequent beatings. In fact he took bought supplies to ward off scurvy and ordered frequent hornpipe dance sessions to keep the crew fit.
His main fault was periodic tirades of temper in which he used language deemed humiliating and niggling towards midshipmen from the gentry class.
Some writers, including his modern-day descendant and biographer the celebrity chef Glynn Christian, believe that Fletcher, who was 23 years old compared to Bligh's 35, was forced to borrow money from the captain during Bounty's stay in the Cape and Bligh then nagged him about it at times of stress at sea.
When the Bounty finally made it to Tahiti, the process of gathering young breadfruit plants took six months. Many of the crew were overcome by the magical beauty and climate of the island and its attractive and uninhibited natives. Fletcher Christian was one of those who formed attachments to Tahitian women and when Peter Heywood underwent the Polynesian custom of tattooing, he had a Manx three legs emblem imprinted on his thigh.
Bligh, meanwhile, was fuming at the relaxation of naval discipline that led to thefts of ship's nails by natives who made them into fish hooks.
When the Bounty finally sailed, the crew had to revert to the rigours of climbing rigging and obeying Bligh's commands. Forced to leave their Tahitian girlfriends behind, they faced a difficult voyage of thousands of miles to Jamaica. In this tense atmosphere Bligh became irritable and stepped up his foul language. One morning he found his supply of coconuts on the deck had diminished and, in front of all the crew, accused Christian of stealing them.
A few days later Fletcher attempted to make himself a raft and jump ship. He was spotted by a fellow crewman who instead persuaded him to lead a mutiny. In the early hours of April 28, 1789, off the small Pacific island of Tofua, where a volcano had been erupting, Bligh was pulled out of bed in his night shirt and forced on deck at sword-point to face a 'wild and unkempt' Christian.
"You have dandled my children on your knee," the hapless Cornish captain told his angry protege.
"Damn your blood, I have been in hell for weeks past," was Fletcher's reply. Bligh and 18 fellow officers and crewmen who did not want to join the mutiny were then cast adrift in the 23ft launch.
Miraculously, such were Bligh's powers of leadership and navigation that they survived starvation and the rigours of negotiating the small vessel around the perils of Australia's Great Barrier Reef to reach the Dutch colony of East Timor, 3,618 miles away from the location of the mutiny. This was despite having only rainwater caught in sailcloth to drink and the occasional seabird to eat in tiny portions blindly shared out using the traditional naval 'who shall have this?' custom.
On his return to England in March 1790, Bligh was exonerated by a court martial and invited to an audience with King George III himself.
Incredibly, Bligh then undertook another breadfruit voyage, successfully bringing breadfruit from Tahiti to Jamaica in HMS Providence. This time he took marines along to keep control and accompanying him was his nephew Godolphin Bond from Devon - whose diaries reveal he found Bligh's niggling and irascibility just as vexing as the Bounty men had.
Meanwhile, after the mutiny, Christian and those still on the ship had sailed the Bounty back to Tahiti, persuaded some native women and a small number of men to join them, and had then sought a refuge from the Royal Navy's vengeance. Peter Heywood was one of 14 men who asked to be left behind on Tahiti and risk handing themselves in if the Navy came calling.
Sure enough, as soon as Bligh's court martial ended in October 1790, the Navy sent the frigate HMS Pandora, under Captain Edward Edwards, to search for the mutineers. After surrendering to the unforgiving Edwards, Peter was one of a number of Bounty men then transported through the tropics chained up in a tiny makeshift prison on the ship's deck.
The Pandora was a full-sized frigate and Peter narrowly missed drowning when she was wrecked on the Great Barrier Reef, where several of the other prisoners were not so lucky. Like Bligh before them, the Pandora survivors then had to endure a 3,000-mile open boat journey to East Timor and a further ship voyage via Cape Town back to England, with Peter kept all the while chained up as a prisoner.
All this time, the Heywood family had been desperate for news of what had happened to him. They had initially appealed to Bligh for information, but he had rather heartlessly written back that the youth was an ungrateful wretch whose friends should be glad to be rid of him. Bligh also told his wife that he "never wanted to see another Manxman".
It was James Modyford Heywood, of Maristow in West Devon, who notified Peter's mother and sisters that a ship was bringing him back to Britain. He promised that the teenager could stay at his home when he returned but the reality of naval discipline meant for Peter Heywood close arrest on board a ship at Portsmouth.
However, behind the scenes James Modyford and Peter's fellow uncle-admiral Thomas Pasley (soon after a hero of the 1794 Battle of the First of June against Revolutionary France) were campaigning for clemency, spurred on by a stream of letters sent from the Isle of Man by Peter's devoted sister Hester, known as Nessy.
After an agonising wait, Peter was found guilty of mutiny and was initially condemned to hang from the yardarm. Despite this, efforts made by a determined lawyer and by Nessy - who endured a 40-hour winter voyage in a fishing boat from the Douglas to Liverpool and then an overnight mailcoach journey to London in her desperation to save him - led to Peter being granted a royal pardon. He subsequently enjoyed an illustrious Navy career in the Napoleonic Wars, having been taken under the wing of Admiral Lord Hood - a move seen by historians as a slap in the face for Bligh.
Sadly Nessy may have damaged her health in her efforts to save her young brother's life, as just a year after Peter's release, while on a visit to a friend in Tunbridge Wells, Kent, she was taken ill, possibly with tuberculosis, and died at Hastings. As a result, her letters were treasured by the Heywood family and several copies made which now reside in libraries in the USA and Australia. One copy has belonged to Manx National Heritage in Douglas since 1996 and another was published in 2013 in the book 'Innocent On The Bounty: The Court-Marital and Pardon of Midshipman Peter Heywood, in Letters'.
Meanwhile, Fletcher Christian's relatives, led by his brother Edward, a professor of law at Cambridge University, launched a publishing campaign blaming Bligh for provoking the Bounty mutiny while awakening public sympathy for Fletcher's desperate actions.
It was only in 1809 that the world found out what had happened to Fletcher Christian and his fellow mutineers, when an American whaler happened to call at tiny Pitcairn Island in a remote part of the South Pacific. Surrounded by thousands of miles of empty ocean, the rocky island was in a location incorrectly charted on maps, was just three miles long but mountainous, and was surrounded by raging surf.
On Pitcairn the whaler's crew found one lone Englishmen, several Tahitian women and a brood of youngsters speaking a mixture of Tahitian and North Country English. They were told the majority of the mutineers, including Fletcher Christian, had been murdered by Tahitian men rebelling against unequal treatment. Those Polynesian men, in turn, had been killed by the women who the British sailors had taken as wives before John Adams, the one mutineer left alive, had taken up his Bible and turned an island of carnage into a community of religious zealots. The island was subsequently visited by Royal Navy vessels but Adams was allowed to remain on his island in peace.
However, in 1831 the distinguished Navy man Sir John Barrow published a book on the mutiny and claimed that, before his death, Peter Heywood had told him about an strange encounter he had had in Plymouth. Heywood said he had been walking down Fore Street, Devonport (then known as Dock), in around 1809 when he saw ahead of him a man strongly resembling Fletcher Christian, and with the same bow-legged gait.
When the man resembling Christian looked over his shoulder and realised he was being followed, he ran away. So was this just a lookalike afraid that he was being pursued by a possible press gang officer, or could Fletcher Christian really have returned to Britain? There were stories of him being seen in Cumberland but today's Pitcairn Islanders are adamant that he died on their tiny outpost in the South Pacific, which is today administered for Britain from New Zealand. Since the 19th century other Bounty mutiny descendants have lived on Norfolk Island, a remote territory of Australia.
As for Bligh, who for a short time became Governor of New South Wales based in Sydney until another mutiny saw him being replaced, his impressive grave monument in Lambeth, London - close to the Archbishop of Canterbury's Lambeth Palace - now forms the centrepiece of the National Museum of Gardening, which took over the former churchyard. He lies with his Manx wife Betsy at his side, and with an inscription making no mention of any mutinies and emphatically declaring that he successfully transplanted breadfruit from Tahiti to the West Indies.
Comments
To leave a comment you need to create an account. |
All comments 0