Liskeard Radio wants you!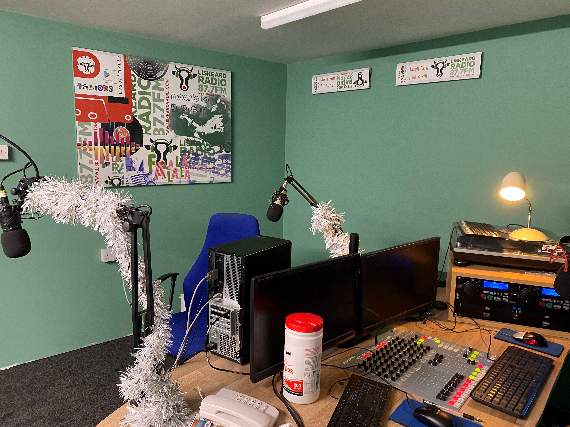 Liskeard Radio's new studio on Barras Street
Subscribe newsletter
Subscribe to our email and get updates right in your inbox.
LISKEARD's very own festive radio station has gone full time – and if you have the urge to be a presenter, they want to hear from you!
For the last eight years, Liskeard Radio has popped up on FM in the month before Christmas, sharing local news, community activities and festive greetings, and broadcasting live from events like the lantern parade.
Originally intended to promote local businesses in December, the station's vision has grown to encompass a wide variety of presenting styles and show formats – and it has always championed local musicians, as well as giving students at Liskeard School and Community College a chance to be part of the project.
The first lockdown changed things up a notch again, as one of the directors and founder presenters Bryan Ugalde explains: "We'd been thinking about going full-time and the pandemic kind of tripped us into it. Our first thought was that we wanted to keep people company while they were working from home."
As the pandemic stretched on, the presenters got into their stride and the team realised that in giving Liskeard its own radio station, they had created something that was not only rare, but could really be a keystone in the town's recovery.
"Now, more than ever, the town is struggling, there's no getting away from it," said Bryan.
"We want to be in there as one of the main organisations helping to pick people up and promote how good Liskeard is."
Bryan says the station is incredibly thankful to its sponsors that have supported them this difficult year, and he encourages more potential sponsors to get in touch and find out about the advantages of year-round partnership.
There are plans in the new year to have live sessions and hopefully a phone-in, but anyone with an idea for a show they'd like to try out would be welcomed.
Liskeard Radio wants to hear from would-be new presenters – and a lack of experience is no problem.
"Some of our best presenters are the ones that had never done it before," said Bryan. "An example is one of our younger ones who started at the start of the lockdown, Harry Walker. He was nervous and needed guiding through it to begin with, but now he is loving it, and his is the consistently most listened-to show."
The station's 30 presenters reflect a wide range of ages and backgrounds, and with no set playlist to have to stick to, there is a wonderful diversity.
From a show in Cornish, to sports news and birthday shout outs, interviews, good-humoured debate and music from across the decades and genres, there is a lot to appeal to every listener.
"We're really offering something different to the generic station – there's something different to listen to every hour, and the content is really good," said Bryan.
"There aren't many towns that can say they've got their own radio. We realised that we've created a gem of a station."