Urgent appeal for accommodation for Cornwall's care workers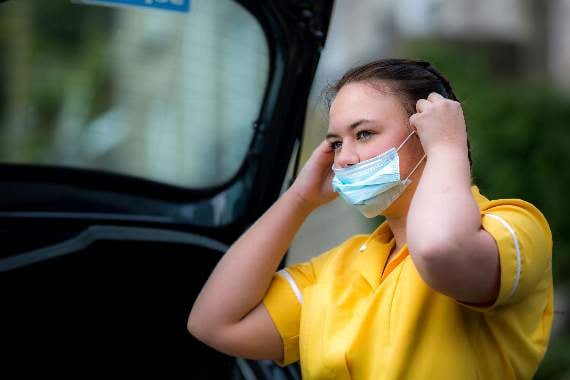 Courtney Pearce of Trelawney Care is one of around 15,000 care sector workers in Cornwall. Many are in need of accommodation so that they can self-isolate from family while they care for vulnerable people. Photo for Cornwall Hugs by Chris Yacoubian
Subscribe newsletter
Subscribe to our email and get updates right in your inbox.
HOLIDAY-let owners, hotels and caravan parks in Cornwall are being urged to come forward with accommodation for the county's care workers.
Many working in Adult social Care need to self-isolate from their families in order to prevent the spread of the coronavirus while they do their jobs, but there is no statutory provision for this.
Now, the team behind the 'Cornwall Hugs Grenfell' appeal, which arranged 500 respite stays for those affected by the Grenfell Tower fire, is asking for help for Cornish carers.
Accommodation providers can register on a dedicated Cornwall Hugs website making it clear whether the offer is freely given, in return for basic costs, or at a reduced rent. Care Workers will also then be able to register their need on the new portal at www.cornwallhugs.org
Esme Page, founder of Cornwall Hugs said: 'Cornwall hugged Grenfell with wide open arms. Now we need to 'hug' our own front-line care workers, with practical help: a safe haven when they need it most!'
Cornwall Hugs has recently been approached by several care workers described as being 'in dire straits'. One young woman, Nicole, was sleeping in her car to protect her vulnerable mother at home. Within hours, Cornwall Hugs found her suitable accommodation. Esme said "Nicole didn't know where to turn and found it difficult to ask for help herself, but when we put the call out on Facebook that immense Cornish compassion came to the fore again and we received 20 offers in a single afternoon.
'This is a real Dunkirk moment! We're going to need a lot more of that spirit if we want other Care Workers to remain in post over the coming weeks. We're looking for a 'fleet' of offers; we're calling upon the 'little boats' and the 'big boats', individual holiday let owners, resorts, caravan parks and letting agencies to throw their weight behind this'
The charity is backed by individuals, businesses, care managers and faith groups.
The Rt Revd Philip Mounstephen, Bishop of Truro, said: 'The Cornwall Hugs initiative pinpoints a real and quite shocking need arising out of the coronavirus crisis.'
Police in Cornwall have reported approaching campervans to discover that they are being used by care workers who need to self-isolate – and Mary Anson, who is director of five care homes in the county, said that staff have been sleeping in chairs at her homes so as not to put others at risk.
Cornwall Hugs says there are 15,500 people employed in the care sector working across 323 establishments in the county, but that with stagffing down by 15 percent, people are concerned about the repercussions.