Latest Storm Eunice update, with a Yellow Warning for strong winds from midday on Sunday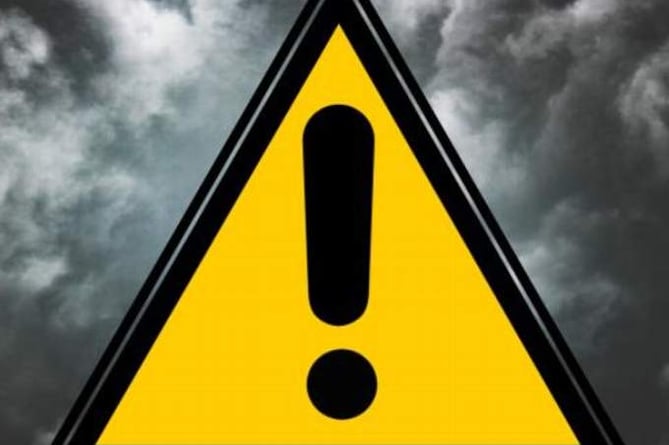 There is a further Yellow Weather Warning for strong winds from midday today (Sunday) until 3pm on Monday.
Subscribe newsletter
Subscribe to our email and get updates right in your inbox.
IN its latest storm update at 3pm on Saturday (February 19), Cornwall Council said that more than 13,000 properties in Cornwall were without power in the aftermath of Storm Eunice.
The council added that it was working with partners to help communities stay safe and was appealing to residents to look out for vulnerable neighbours, relatives and friends.
However, now the Met Office has issued a further Yellow Weather Warning for Cornwall ahead of strong winds from midday today (Sunday) until 3pm on Monday, meaning that motorists may expect further road closures as these winds may add to the damage caused by Storm Eunice.
In addition, Great Western Railway (GWR) is advising people not to travel unless essential today as they are still working to clear obstructions and damage on the lines through the region.
Western Power Distribution (WPD) has also been working to restore power to affected homes by midnight on Monday (February 21) with the aim that many homes would have their power restored earlier.
St Dominick Parish Hall in the Tamar Valley was one of a number of locations where volunteers provided hot drinks and hot water to local residents who had suffered power cuts yesterday after part of the village suffered a power cut for most of the day on Friday, then had power restored at 3pm, only to suffer another outage at around 5am on Saturday until power was restored again at 3pm.
Cornwall Council said that elsewhere it was working with Cornwall Fire and Rescue Service and WPD to establish community spaces at six fire stations for affected residents to access hot drinks, use microwaves, fill up flasks and hot water bottles and charge mobile phones. The stations providing this service were Liskeard, Saltash, Bodmin, Falmouth, Bude, and St Keverne, which were open until 6.30pm on Saturday night and will be providing the same assistance from 10am to 6pm on Sunday.
Residents needing support could also ring Cornwall Council's emergency number from 9am to 9pm throughout the weekend and on Monday on 01872 323752.
Cornwall Council said it was contacting town and parish council Community Emergency Plan groups to support their communities. In addition, Cornwall Fire and Rescue Service and Devon and Cornwall Police have been mobilising their teams of community police officers, including PSO officers and Tri Service Safety Officers, to check on residents without power.
Volunteer Cornwall has also been asking its volunteers to look out for vulnerable residents this weekend.
To report a power cut ring Western Power Distribution on 105.
Cllr Olly Monk, Cornwall's Portfolio holder for housing and planning, said: "Storm Eunice is still causing massive disruption for thousands of households across Cornwall who are affected by power outages this weekend.
"While the power companies are doing everything they can to get households back on grid, together with our partners we are working hard to carry out checks where we can on residents who don't have power at home. If you or someone you know needs support you can ring our emergency number from 9am to 9pm throughout the weekend and on Monday on 01872 323752.
"We are appealing to people in Cornwall especially in areas that are worst affected to please help by looking out for your neighbours, relatives and friends who are vulnerable and might be struggling this weekend."
Anyone with urgent but not life-threatening health concerns should ring 111 but if you are in danger, call 999.
The situation at 3pm on Saturday was reported as being: With Cornwall Council and partners working flat out to support households without power, clear debris and keep residents safe, the focus of the Cornwall Tactical Command Group now is focusing on the clear-up, getting homes back on power, and the recovery phase.
• There are now more than 13,000 homes in Cornwall without power, with Western Power Distribution (WPD) teams working hard to return power.
• WPD is working with the British Red Cross to prioritise people registered as vulnerable. If you or someone you know is worried or needs access to food and medication, the support line is open this weekend from 10am to 6pm on 0808 196 3651.
• You can claim compensation for power cuts during severe weather of £70 as a domestic customer and £70 as a non-domestic customer if power is off for 24 hours (Storm Category 1) or 48 hours (Storm Category 2). Ofgem checks and verifies storm categories. You can get a further £70 for each additional 12 hours of being off supply, up to a total of £700.
• There remain a number of fallen trees and properties with damaged roofs and whole roofs and roof debris causing issues. To report a fallen tree please call Cornwall Council on 0300 1234 222 and press option 1.
• Great Western Railway have warned people not to travel today unless essential as they work to clear the lines.
• There is a Met Office yellow wind warning for Cornwall until 6pm on Saturday night and again from midday on Sunday to 3pm on Monday. Risks include possible road closures and delays to travelling times.
• Inspections to damaged structures will be carried out once it is safe to do so.
• Recycling and garden waste and clinical waste were being collected on Saturday and black bag rubbish that could not be collected on Friday 19th will be collected on Friday, February 25.
• The mass COVID vaccination site at Stithians will remain closed until Monday (February 21), while structural inspections take place.
For traffic and travel information tune into local radio stations.
To keep up to date with the latest information please follow social media accounts
• Cornwall Council on Twitter
• Devon and Cornwall Police on Twitter
• Environment Agency on Twitter
The Tamar Bridge is open and the Tamar Ferry Crossings were reported as open and running on Saturday but for latest information refer to their website or https://www.facebook.com/tamarcrossings for updates, or call the Torpoint Ferry on 01752 812233.
How to get help or report a problem:
The Council's highways service and CORMAC have shut all routine roadworks and have increased crews standing by to respond to issues on Cornwall's road network.
To report a blocked or damaged road or pavement that is causing an immediate danger, damage to a Cornwall Housing property, highway emergency or an issue which has the potential to cause harm or injury - please call the council on 0300 1234 222 (24 hour) or use its https://www.cornwall.gov.uk/report-something/
To report flooding, contact the Environment Agency Incident hotline on 0800 80 70 60 (24 hour). Be flood aware and prepare if you can, and know what to do if your home starts to flood or call the Environment Agency on 0345 988 1188 (24 hour).
The Council has activated its Severe Weather Emergency Protocol (SWEP) to provide emergency accommodation for rough sleepers. If you see, or know of, anyone sleeping rough call 0300 1234 161.
Winter Warm and Wellbeing
Organisations that can offer support, Monday – Friday, include:
- Crisis Awards of up to £1,500 can help people in emergency or disaster situations with their immediate needs. Benefit contact centre – 0300 1234 121
- Community Energy Plus 0800 954 1956
- Age UK Cornwall Helpline – 01872 266 383
- Cornwall Fire and Rescue Service – 0800 358 1999
- Citizens Advice – 0800 1444 8848
- Royal Voluntary Service 0330 555 0310, part of British Red Cross
- Royal British Legion who offer financial support for emergency situations 0800 802 8080.
The Fuel Petroleum Service (FPS) runs a Cold Weather Priority scheme. This is designed to identify those customers most vulnerable to cold conditions. It ensures that your fuel supplier knows who you are and where you are. They can then take appropriate steps to ensure fuel availability. This is especially true in times of fuel shortage or extreme cold weather. In Cornwall the following are members of the Fuel Petroleum Service (FPS):
- Heltor Ltd Cornwall Fuels on 01726 72890
- Mitchell & Webber Ltd on 01209 821881
- Opie Oils Limited on 01209 215164
- Watsons Fuels Redruth Depot on 01209 313366.
If you find yourself in a situation where you believe you are in danger, call 999.