Fallen trees, damaged roofs, power outages and travel disruption follow in the wake of Storm Eunice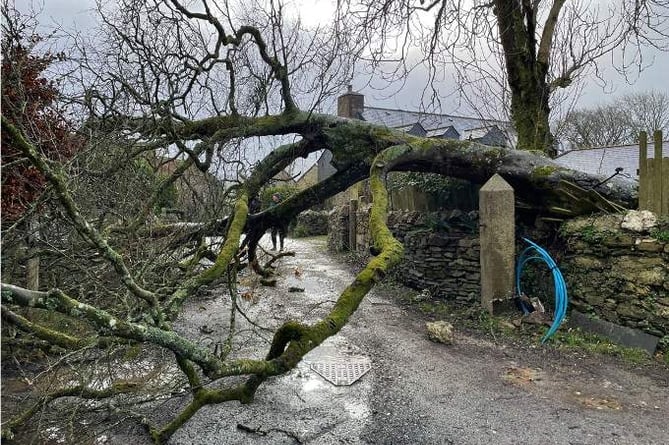 This large tree felled by Storm Eunice was photographed by David Ambler at Trewidland.
Subscribe newsletter
Subscribe to our email and get updates right in your inbox.
THE impact of Storm Eunice was still being felt across Cornwall yesterday (Friday) evening, with a number of fallen trees and roofs damaged or blown off, and with Cornwall Council's warning to avoid travel remaining in place, unless absolutely necessary.
Drivers having to make journeys were being warned to take extreme care and expect road closures and disruption due to fallen trees and debris, and not to do anything that put themselves at risk. As reported yesterday on this website, a tree fell onto a lorry on the A38 near Liskeard, closing the road for a time during the morning.
Other local trees brought down included one included with this article photographed by David Ambler at Trewidland, and one reported to have closed the Pelynt to Polperro Road at Barcelona Cross, near Looe, a route which drivers were being advised to avoid.
Further afield, a very large tree which has been a landmark in the Triangle at the centre of Bude made the national TV news on a number of channels after a young student captured it toppling to the ground after he started filming with his camera phone when he noticed it starting to sway.
Although there were no fatalities in the South West, across the UK three people were killed by falling trees due to Storm Eunice, together with two people in Co Wexford in the Republic of Ireland.
Train services across the region and in many other parts of the UK – particularly right across Wales – were cancelled yesterday and news reports suggest they will not resume until after midday today. A tree was reported as having fallen onto the Cornwall mainline at Menheniot near Liskeard and was one of many across the network.
Train operator GWR has issued this travel advice: "Work continues to clear debris from the tracks, and move trains and staff to where they need to be to safely run our planned timetable. However, the extent of the work and the fact that hundreds of miles of track needs to be safety checked, means that train services will continue to be significantly disrupted on Saturday.
"We continue to advise customers not to travel at this time.
"No trains will operate on the GWR network until at least 10:00 on Saturday morning - with the majority of services not returning until the afternoon.
"Services in Devon and Cornwall have been particularly affected and will not run until at least 13:00.
"We're sorry for the continued disruption to our services. Our teams are working hard to get trains running safely again as soon as possible. Please check the latest situation before attempting to travel.
"Ticket easements: Tickets dated for travel on Friday, February 18, and Saturday, February 19, will be valid for travel later on Saturday 19, Sunday 20 or Monday 21 February.
Customers are strongly advised to delay their journey until later in the day on Saturday or considertravelling on Sunday or Monday instead."
Cornwall Council was also asking people to look out for their vulnerable neighbours, relatives and friends in the wake of Storm Eunice leaving, as at least 27,000 properties in Cornwall were still left without power.
Cllr Martyn Alvey, Portfolio holder for the environment and climate change said: "Storm Eunice has left in its wake a lot of damage and disruption – including power outages for many households across Cornwall.
"While the power companies are doing everything they can to get households back on grid, and the council and our partners are working hard to clean up the debris and damage left by the storm, there will be residents who, this evening don't have power at home.
"We are encouraging people in Cornwall to look out for their neighbours who are vulnerable and might be struggling this weekend."
Cornwall's multi-agency Tactical Command Group, led by Superintendent Steve Lenney, remained open well into Friday evening, with Cllr Martyn Alvey, Cabinet Member for Environment, being part of the multi-agency group. Although the Red Warning applying to North Cornwall as well as North Devon and West Somerset had passed by 5pm, Cornwall remained under a high impact Amber Warning until 9pm on Friday night.
With Council and partners working flat out to clear debris and keep residents safe, the focus of the Cornwall Tactical Command Group now is focusing on the clear-up, getting homes back on power, and the recovery phase.
At 5pm on Friday the state of play was announced as being:
• Police, Fire and Rescue and Highways calls are now steady and dropping off;
• Cornwall Fire and Rescue Service have four units deployed to unsafe structures;
• There are a number of fallen trees and dangerous damage to roofs and Cornwall Fire and Rescue are advising caution to anyone that absolutely has to be out and about;
• Following the closure of Penmount Crematorium and cancellation of service on Friday, engineers will be assessing the damage, as soon as it is safe to do so, with a view to expediating repairs.
• The Tamar Bridge was still closed to high sided vehicles, due to high winds, but remained open for other vehicles.
• Highways staff had taken over 200 emergency calls, due to a number of fallen trees across Cornwall. With over 30 roads closed because of this, crews are working hard to clear the trees and reopen roads. To report a fallen tree please call Cornwall Council on 0300 1234 222.
• A tree had closed the Pelynt to Polperro Road at Barcelona Cross, near Looe and the public were being asked to avoid this route.
• There remain a number of properties with damaged roofs and whole roofs and roof debris causing issues. With Cornwall still under an Amber Warning, and damaged buildings more vulnerable to further damage, everyone is advised to take extreme care if they absolutely have to be out and about. Inspections to damaged structures will be carried out once it is safe to do so.
• Highways staff were gritting roads across Cornwall from 6pm last night as temperatures were expected to dip as low as -1.5 degrees C overnight.
• It was stated that at 5pm there were now nearly 27,000 homes in Cornwall without power, with Western Power Distribution (WPD) teams working hard to return power. It was too early for WPD to say how soon those properties would be returned to power. Nationally they still have 90,000 properties without power and have returned power to 170,000 homes. WPD are working with the Red Cross to prioritise people registered as vulnerable. With temperatures dropping overnight to as low as 1.5 degrees Celsius, and averaging 3 degrees Celsius - Cornwall Council was asking people to check on any vulnerable family and neighbours.
• Connon Bridge Household Waste and Recycling Centre (HWRC) remained closed due to a fallen tree.
• Bodmin and Launceston Household Waste and Recycling Centres (HWRCs) had reopened by yesterday evening but Bude, Newquay and Tintagel HWRCs remained closed until considered safe to reopen.
• Bulky waste collections were cancelled on Friday but Biffa will contact anyone who had been scheduled to have a collection yesterday, on Monday to rearrange collection.
• Recycling and garden waste and clinical waste which was due to have been picked up on Friday will now be collected today (Saturday, February 19) and rubbish will be collected on Friday, February 25.
• All COVID testing centres in Cornwall were closed on Friday until today (Saturday), so those requiring a test were asked to please check the NHS website before attending.
• The mass COVID vaccination site at Stithians will remain closed until Monday, while structural inspections take place.
• The Isles of Scilly has no significant wind and storm damage to report, although the sea state was described as still being very rough.
• All flood warnings have now been downgraded to flood alerts.
For information on power outages please visit Western Power website