Redruth chief full of praise for CABs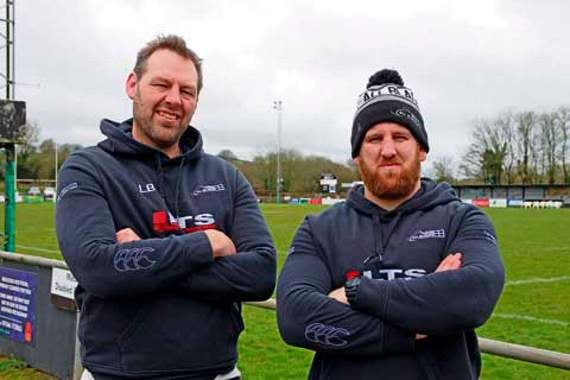 Redruth director of rugby Nigel Hambly has praised Cornish All Blacks joint head coaches Ian Goldsmith (left) and Ryan Westren (right) for agreeing to two friendlies. Picture: Paul Hamlyn
Subscribe newsletter
Subscribe to our email and get updates right in your inbox.
REDRUTH director of rugby Nigel Hambly praised Cornish All Blacks for agreeing to two end-of-season games against his side, even though they play one league higher, writes Nigel Walrond.
The Reds won 44-5 at the Recreation Ground and 45-0 at Polson Bridge against their old rivals, but he admitted his players had been given a tough time by the South West Premier level outfit.
"It is just nice to get back to a bit of normality, and we appreciate what Launceston have done," he said. "They were really struggling four or five years ago, and we don't want to see that, but fair play to Goldy and Westy (All Blacks' joint head coaches Ian Goldsmith and Ryan Westren), they have dug in and their boys tonight were an image of what they are about – staying in there, never giving up, never taking a backward step and just giving it everything they have got all the time.
"Hopefully they have learnt a lot from these two games. We have, and we have got a huge amount out of these two fixtures.
"It is nice to see a Cornish club step up, because a lot of them step down or step sideways and they dodge the challenge.
"These guys haven't. They have hit us head on in two games. We are a decent side, but these guys have really fronted up, they have not taken a backward step, and that is credit to Goldy, Westy and the club as a whole because four or five years ago they were struggling. To see this tonight makes me happy, it makes me excited.
"A lot of Cornish clubs duck us because they know it is going to be tough against us, but out of adversity comes triumph.
"These games are not about the score."
It was a sentiment with which Goldsmith totally agreed.
"These last two weeks have just been fantastic. For us, Redruth are the benchmark and that's where we are trying to get to," he said.
"We improved today from the first match against them, and we made it really difficult for them to score and we made them battle.
"Our physicality got a bit closer to theirs, which is one thing we spoke about beforehand.
"It was just brilliant to be at Polson with loads and loads of people watching, and for our young boys to test themselves against what is a really good top of National Two team.
"Nigel and I have been trying to get things going again, and we appreciate it that he has brought his best team up here, and it was just great to see two Cornish teams going at it.
"We have been conversing with each other for a couple of years now and it is about raising the profile and the standard of rugby in Cornwall as a whole.
"It is not about being tribal, we are not interested in that. We are interested in making sure the whole county gets better."
Hambly added: "This is the way Cornish rugby should be. People enjoying themselves and hanging over the sides.
"When Fraser Honey was taking that last kick, he got absolutely ripped by the people standing near there, but that's great fun. That's the way it always used to be, and that's the way it should be. We were brought up with it, and we are trying to get back to that.
"Times have changed, and things move on, but there is a still a place for that, and us at Redruth want to help Launceston as much as we can, with things like loan players. If we can do it, we will do it. A strong Redruth means there is a strong Launceston and Camborne. A strong Launceston and Camborne means there is a strong St Austell and Penryn. It does feed down.
"We are top of the tree at the moment outside of the Pirates, but we want other clubs to be there, we encourage the competition, we need competition, but we also need friendship."