Educational psychologists working for Cornwall Council took strike action this morning (November 15) and presented a joint letter to the leader of Cornwall Council and the portfolio holder for children and families.
This action is part of a national campaign to improve working conditions and save a service campaigners say is at "tipping point".
The group has since apologised for the "inconvenience" the action will cause families and schools.
Members, who are part of the Cornwall branch of the Association of Educational Psychologists (AEP), hoped to highlight the challenges of delivering services after years of depleted pay and conditions, worsening resources and spiralling workloads — all within a continuing cost of living crisis.
This followed a ballot from the AEP, where members voted overwhelmingly in favour of strike action and action short of a strike. Legal voting thresholds were achieved by an overwhelming majority of EP services across the country, including in Cornwall. 
On presenting the joint letter at County Hall, educational psychologist, Joe Brook said: "Today we are sending a clear message that Educational Psychologists up and down the country are at breaking point. We cannot continue to deliver the quality service that children, young people and their families deserve without additional resources.
"We apologise for the inconvenience that this will cause to families and schools who are waiting for our service and ask for their patience and understanding during this period of unprecedented industrial action. But we have been left with no choice - without this action and unless things change, there is a real risk that there will no longer be any access to publicly funded Educational Psychology Services in the years to come."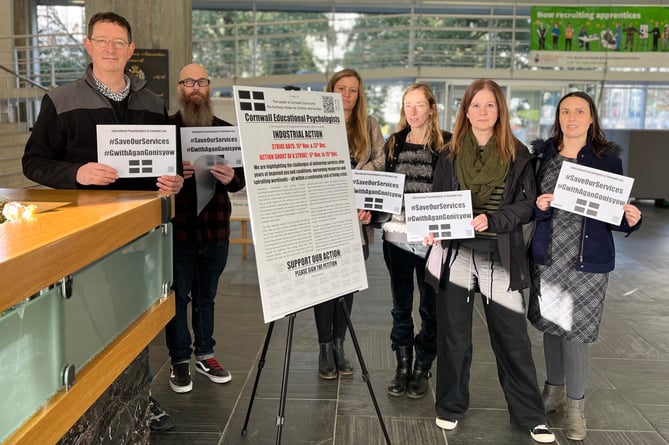 Joe Brook (educational psychologist), Dr Will Cross (educational psychologist and AEP rep), Kate Horrill (senior educational psychologist), Sali Kew Jones (educational psychologist) and Kate Hornblower (educational psychologist
(Association of Educational Psychologists' Cornwall)
Educational psychologists provide psychological expertise across the education sector as well as providing statutory advice for Education, Health and Care Plans (EHCPs) and say their workloads have increased dramatically with no investment being made by the local authority due to funding cuts.
The AEP says it is campaigning to save these services under the slogan #SaveOurServices. The AEP has only taken industrial action a few times in its history, but now feels it "cannot go on seeing the erosion of pay and services without taking this action". 
In response, a Cornwall Council spokesperson said: "Planned strike action by the AEP Trade Union for two days on November 15 and December 13 could mean delays in some children being seen by an educational psychologist, to work being carried out or to reports being written and distributed. Visits planned on the two strike days will be rescheduled.   
"The council's Educational Psychology Service will continue to provide critical incident support if there is a traumatic event in the community."