Pick up your latest Cornish Times today!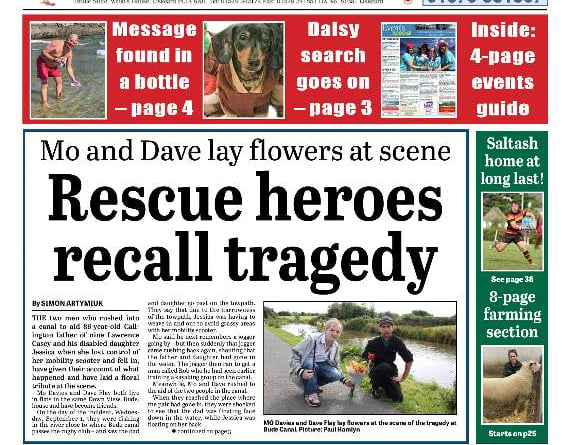 Subscribe newsletter
Subscribe to our email and get updates right in your inbox.
In your Cornish Times this week:
Hear from the two brave rescuers who went to the aid of Callington father Lawrence Casey and his disabled daughter Jessica when she fell into the canal in Bude. In this tragic incident, the devoted father-of-nine lost his life, but the two local men were able to save Jessica – in our exclusive interview they tell their story of that day.
Message in a bottle – a daughter tells the moving story of why she sent her father's ashes to sea – and how, amazingly, they came in with the tide on a beach that was so special to her dad
Tideford air quality – find out about the pilot scheme to help residents breathe more easily
Hannafore parking – controversial plans withdrawn
When is affordable not affordable? Local family knocked back by planners in quest to build their own home in village where they live, work and belong
Liskeard Unlocked – find out what's still to come in this fabulous local heritage event
Riverbank breached – learn of the scheme to reclaim lost habitats in the Tamar Valley and help prevent flooding
As well as this we've got no fewer than three special supplements for you this week!
Events Guide autumn and winter 2021/2022
Sports Special – a packed 16-page pull out with all your local and regional reports, photos, interviews, results and fixtures
Farming – we've got a focus on Holsworthy this week, if it's a while since you paid this pretty town a visit, Saturday is the time, with an open day celebrating and showcasing many local businesses!
Look out too for all your usual features in this week's Cornish Times – theres:
Community news, with pictures this week from Rilla Mill's Fun Day, Torpoint Lions Fete, and St Ive Gardening Club
Magistrates Court reports, Family announcements, Reader Letters, Puzzles, Nature Watch, and much, much more…
Your latest edition of The Cornish Times is in the shops today!