Father in fight for Owen's Law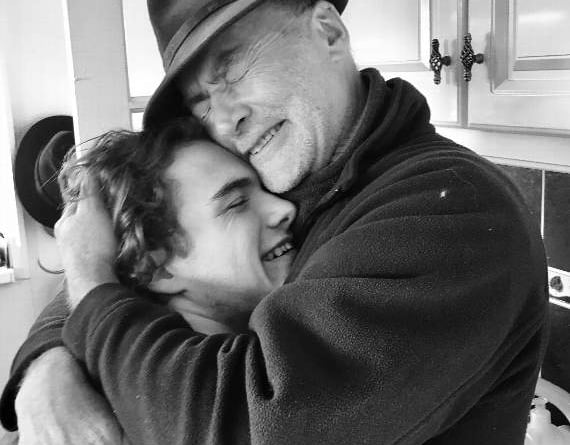 Paul Carey with his son Owen on one of the last times he saw him
Subscribe newsletter
Subscribe to our email and get updates right in your inbox.
A MAN whose son died after eating a burger containing allergens is campaigning for a change in the law.
Owen Carey was celebrating his 18th birthday in London when he collapsed beneath the London Eye.
A severe allergy sufferer, Owen had, 45 minutes earlier, eaten part of a grilled chicken burger he believed to be safe, but which unbeknown to him had been marinated in buttermilk.
In anaphylactic shock and unable to breathe, the youngster was treated by paramedics but could not be saved.
A coroner's report more than two years after Owen's death in 2017 found that Owen had done what he should have done, by alerting the staff to his allergies, and gave confirmation that the restaurant, Byron Burger, had not told him about the ingredients used.
Since then, Paul Carey, who lives near Callington, and his daughter Emma, have been campaigning for a change in the law which would see food outlets obliged to print information about allergens alongside other details on the menu.
At the moment, restaurants can provide this information "by any means", including verbally, which leaves too much room for error, says Paul.
Byron Burger has since been taken over by a new company and two weeks ago, its chief executive pledged to print allergen advice at the foot of the menu.
Other hospitality outlets large and small have also opted to print such information voluntarily: Paul says that Wetherspoon is one example of a company doing things really well, with clear symbols presented on the menus specific to each of its pubs.
The family has had positive discussions with the Food Standards Agency (FSA) and hope that a clear stance on the matter from the FSA will lead to a DEFRA bill being produced.
Similar legislation but relating to the labelling of pre-prepared food, Natasha's Law, will come into effect in October 2021, following the death of a 15-year-old allergy sufferer.
Paul, 64, has launched a petition on the UK Government website which, if it reaches 100,000 signatures, will ensure that the subject is heard in the House of Commons.
"We'd like more restaurants to adopt Owen's Law voluntarily, but in the end, we want the law to oblige all outlets to do it.
"It should not be something that the customer has to demand. There should also be an obligation for staff at the point of ordering food to be informed about allergens in the food – if the waiter had asked, Owen would still be here today."
Owen, who had come to Callington to spend time with his dad for his 18th birthday, was a "cheeky prankster" and one of life's good people who brought joy to all he met, said Paul.
Much younger than his siblings, Owen took on the role of uncle to their children with a huge amount of love and fun.
"When Owen came to Cornwall I insisted on buying him a beer and we went out in Callington – he had three pints of Rattler," said Paul. "I saw him one more time
after that, when I took him back to school in Sussex.
"I reminded him to take his epi-pen, because he was wearing those skinny jeans, and it wouldn't go in the pocket.
"I said goodbye to him thinking it was just an ordinary day. He died three days later."