Campaigners urge MP to support Climate Bill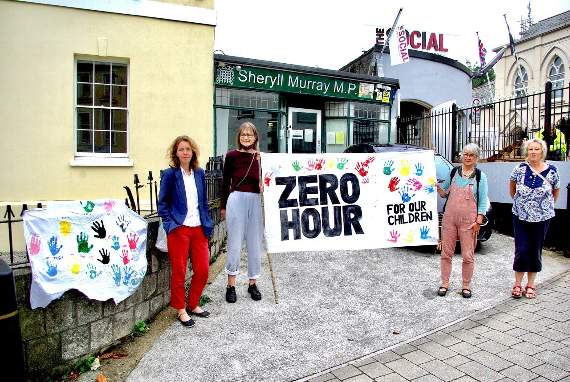 Zero Hour campaigners at MP Sheryll Murray's office
Subscribe newsletter
Subscribe to our email and get updates right in your inbox.
PEOPLE are being urged to keep the pressure up on their members of parliament to support the Climate and Ecological Emergency Bill (CEE Bill).
The Bill had been due to be debated in Parliament yesterday but time ran out in the Commons, and it was rolled over, along with a series of other bills on the list.
The consensus among climate scientists and the UK's own Climate Committee is that time is running out to take the action needed to prevent catastrophic global temperature rise.
Campaigners had been outside MP Sheryll Murray's office earlier in the week to ask that she support the second reading of the CEE Bill.
Children's handprints reflected the idea that those set to be most affected by climate change are those without a voice.
"The youngest in our society are those who will be most affected by the onslaught of climate change and ecosystem collapse and yet they are hardly ever given a platform," said Natalie Newton and Rebecca Coombes of South East Cornwall Climate Action Network.
"Looking into a child's eyes and explaining what they are doing about the crises can really help politicians focus on what needs to be done. We want to show the breadth of support locally and to underline the importance and urgency of the Bill, particularly for those who don't get a voice."
The CEE Bill is now set to return to the Commons again on October 26 – the eve of the COP26 conference in Glasgow.
Drafted by scientists, legal experts, ecological economists and environmentalists, the CEE Bill is designed specifically to reverse climate and ecological breakdown through specific, tougher and more joined-up actions than reflected in current policy.
The Bill requires the UK to take responsibility for its fair share of greenhouse gas emissions, to actively restore biodiverse habitats, and to stop damaging the natural world through the production, transportation and disposal of the goods we consume.
According to the UK's Climate Change Committee, the UK Government is currently set to fall desperately short of achieving its goal for cutting carbon emissions.
If a goal in reductions is not met by 2050, it's thought highly likely that the global temperature rise will exceed the 1.5 degrees scientists and campaigners are advocating for.
Green MP Caroline Lucas, who tabled the CEE Bill, tweeted on Friday: "Although no second reading debate for the Climate and Ecological Emergency Bill today, that doesn't mean you should stop urging your MP to join 115 MPs in supporting it.
"COP26's aim is to keep 1.5C within reach. That's what the CEE Bill does, and why more and more MPs back it."