Bus companies team up with 'Any Ticket, Any Bus' Cornwall-wide intiative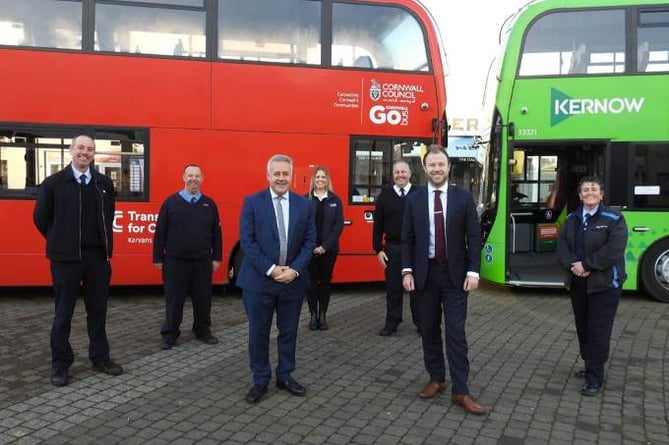 Bus companies across Cornwall have teamed up in a scheme where from this month customers can now use the same ticket on any bus operator's services within the county.
Subscribe newsletter
Subscribe to our email and get updates right in your inbox.
BUS companies in Cornwall have come together to join forces in an initiative which will see them now accepting each other's tickets.
In a game-changing development, customers across the county who will now be able to jump on and off any bus no matter who it's operated by – it's 'Any Ticket, Any Bus'.
Previously passengers who bought a return or a multi-journey ticket would be restricted to using only the same company's bus services from whom it was purchased, but from the beginning of this month they can now use that same ticket on any bus operator's services within Cornwall. Passengers will be able to use their bus ticket on Cornwall by Kernow, Go Cornwall Bus, Stagecoach, Hopleys, OTS and Travel Cornwall services.
The good news continues, too, as all young people under 19 will now benefit from half-price fares, a development seeing local town zone fares drop to just £1.50 a day. The 'Any Ticket, Any Bus' initiative, which is led by the Transport for Cornwall partnership, has truly opened up the bus network for residents across the region, offering greater convenience and cheaper travel.
Richard Stevens, Managing Director of Go Cornwall Bus, said: "This is a big first step to better value bus travel in Cornwall. Not only does this make traveling around Cornwall by bus easier, for many it will make it cheaper. We are looking forward to working with the other Transport for Cornwall partners to deliver more exciting projects in 2022".
Simon Goff, Managing Director for Cornwall by Kernow, went on to explain: "This partnership is truly innovative. We're all coming together with one clear aim: to make things easier for customers across the county. Our future plans will help transform public transport in Cornwall and we're really proud to be a part of it. 'Any Ticket, Any Bus' is just the start!"
Mike Watson, Managing Director for Stagecoach South West, added: "Stagecoach is delighted to be an integral part of the Cornwall network. It is great that we are now accepting other operator tickets for travel within Cornwall, and that our tickets are now valid on other operators' buses too."
Transport for Cornwall is made up of local bus and train operators and Cornwall Council, all working together and aiming to deliver a transport network that's simple to use, great quality and even better value for money; with the overall goal of seeing the county take more and more green journeys.
"Over the next few months, the operators, along with Cornwall Council, will be introducing a variety of schemes including a bus fares pilot backed by the Department for Transport which will see fares reduce further across the county."
Cllr Philip Desmonde, Cornwall Council cabinet portfolio holder for transport, said: "The efforts of our bus operators in working together to deliver better-value tickets for residents is a great step forward. Better value fares are central to the Council's recently developed Bus Service Improvement Plan, developed in partnership with operators. This is the first step on a journey which will see buses fully support the delivery of a low carbon Cornwall and provide vital, affordable connections for our communities."
In addition, the partnership will be rolling out tap on/tap off technology which will make sure customers always get the very best value fare for the journeys they make. 2022 is already shaping up to be a big year for buses in Cornwall.
For further information about Transport for Cornwall visit http://www.transportforcornwall.co.uk
The 'Any Ticket, Any Bus' scheme does exclude Truro and Penwith College passes, Falmouth & Exeter University passes and use on Truro Park & Ride.
There is a video available to watch about 'Any Ticket, Any Bus' at https://youtu.be/HgmIpCRDCJw