The latest issue of the Cornish Times is on sale now, check out what's inside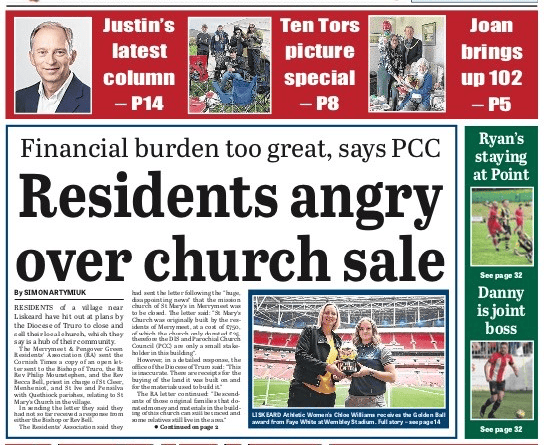 Inside this week's Cornish Times
(Cornish Times )
Subscribe newsletter
Subscribe to our email and get updates right in your inbox.
THE latest issue of the Cornish Times in on sale now and this week's news and features coverage includes:
- Residents of Merrymeet near Liskeard have hit out at plans by the Parochial Church Council and Diocese of Truro to close and sell there local church, which they say was originally funded and built by local residents. They say they didn't receive an answer when they sent an open letter to the Bishop and priest in charge, but the Diocese has sent us a detailed official response.
- We also have a page of pictures by local photographer Andy Campfield of TS Ramehead Sea Cadet Band leading Torpoint Birtish Legion's parade of its Standard through the town, an event attended by civic leaders and local organisations.
- There is great upset in Calstock Parish after apple trees which were planted by local volunteers back in December at St Ann's Chapel as part of the Forest for Cornwall project had their trunks cut in an act of 'wanton vandalism'. The matter has been reported to police.
- Thanks to local support, the South East Cornwall branch of charity Cats Protection is relaunching after having to close during the COVID pandemic.
- Friday 13th may be traditionally considered to be an unlucky day but this month it wasn't for Saltash resident Joan Picton, who receive presents and a visit from the Mayor and Mayoress on the occasion of her 102nd birthday. But just in case she had a family celebration planned for the 14th as well!
- In her latest Westminster column South East Cornwall MP Sheryll Murray gives us an account of last week's Queen's Speech (this time actually given by HRH Prince Charles with the Duchess of Cornwall and Duke of Cambridge in attendance) and some of the bills it contained.
- This week's Cornish Times has two pages of Letters plus Sheila Goldsworthy's monthly WI Topics column and a Viewfinder picture.
- We also have a report and page of pictures of local young people taking part in the Ten Tors Challenge on Dartmoor - the first to take place for two years due to the COVID pandemic. One teacher has told us that witnessing them overcoming obstacles and rising to the challenge was "brilliant to witness".
- A St Neot choir originally formed for a 'one-off' event has just celebrated its 20th anniversary.
- We have a report and examples of pictures from an exhibition of work by aspiring artists that will be taking place at the Tamar Valley Centre in Gunnislake later this month. You will be amazed at the techniques they use and the results they achieve.
- This week's Cornish Times also has a page feature previewing the Liskeard Relay for Life event taking place to raise funds for Cancer Research UK on Saturday and Sunday, May 28 and 29.
- We have a special feature on a tree planting ceremony and audio play which is to be release in memory of Terence Frisby, who arrived in Doublebois near Liskeard as a wartime evacuee, aged seven, and went on to become a celebrated broadcaster, theatre director and producer.
- On this week's Community page, we have pictures from Liskeard Flower Club, St Dominic Slimming Club, South Hill Walking Group and two members of Callington Lions have recounted their experiences of joining one of taxi company owner Darren Tait's 'Sending love to Ukraine' aid missions - he has another planned for the Platinum Jubilee bank holiday.
- In his latest fortnightly column for the Cornish Times, former BBC Spotlight presenter Justin Leigh writes about how the early wake-up calls he has had to endure during a stint filling in on the BBC Radio Cornwall breakfast programme has given him a new appreciation for what night shift workers have to put up with.
- We also have a picture of Liskeard Athletic Women's Chloe William receiving the inaugural Golden Ball Award, which has been established to commemorate the top scorers in the season's competition.- There is a report on the Cornwall Man Down team's achievement in hauling a log of hardwood weighing 82kg up and down Ben Nevis, at 4,413ft the UK's highest mountain.
- There are two pages of Farming features in this week's Cornish Times, including a report from Duchy College's Future Farm and the latest Truro Livestock Market report.
- This week's Cornish Times has six pages of Sport, leading with ace striker Ryan Richards revealing the news that all Torpoint Athletic fans have been wanting to hear - 'I'm going nowhere!'We also report that Danny Lewis is 'excited' to be taking over as joint manager of Saltash United with former Plymouth Parkway midfielder Shane Krac; Callington Town first team manager Shaun Vincent has agreed to carry on his role next season; and martial arts fighter Kate Jackson suffered a second-round technical knockout in her latest bout at London's SSE Arena.Other football coverage includes SWPL Champions Bowl, Western League, St Piran League and East Cornwall Premier League and other sports covered this week include Rugby Union, Bond Timber Cornwall Cricket League, Golf, Sailing and Bowls.
- We also have favourite features including Daily Announcements, Court reports, Wordsearch, Christian Comment, Puzzles page, Antiques and Auctions, Homes and Gardens, Property page, Motoring, Recruitment and Public Notices.There is all this and more in this week's Cornish Times, available in the shops now.
Comments
To leave a comment you need to create an account. |
All comments 0