Gleaning network helps tackle food poverty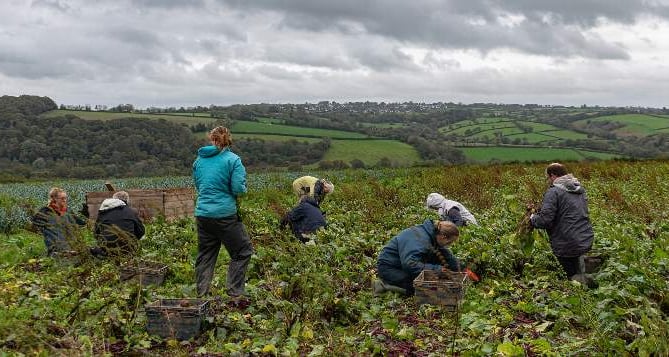 Subscribe newsletter
Subscribe to our email and get updates right in your inbox.
South East Cornwall has joined the Cornish 'gleaning' network with the aim of tackling food poverty.
Gleaning is the act of collecting leftover crops from farmers fields after they have been commercially harvested or on fields where it is not economically profitable to harvest.
Holly Whitelaw, the coordinator of gleaning for the entirety of Cornwall and West Cornwall, made the commitment to kick start gleaning in Cornwall. Having managed a successful project last year in Penwith, Holly was then able to secure funding for the rest of Cornwall. There are currently four active groups working over the entire county, with future plans to develop groups in Bude, Falmouth, Plymouth and West Devon.
Katie Smith, the coordinator for South East [of Cornwall] gleaning, said: "I'm doing it for many reasons, it ticks so many boxes: we're reducing waste, helping to combat food poverty, connecting communities and helping farmers. I'm a grower myself and grow vegetables for Keveral veg box scheme so I know how hard it is to grow the stuff and to keep on top of it all."
She continued: "There is such a small window between crops to prep the ground and get the next one in. Sometimes you have to sacrifice some of your current crop to enable the success of your future crop. It can be hard thing to do but sometimes needs to be done.
"That's why the gleaning is such a good idea, especially on larger-scale farms. We can be called upon during that time window to take what we can and distribute it to those that need it the most."
Cases of malnutrition have been reported by food banks but contributions from gleans has supported the efforts in tackling food poverty all over Cornwall and the UK. Katie said: "It feels great to be part of such an amazing project. I distributed a ton of veg to food bank drop-off points last night and they were all so grateful – it makes a massive difference to them especially with it being fresh."
The gleaning network is still developing with hopes to reach other areas of the UK. Katie continued: "I would love to see this project grow and grow. We are still setting up our links and infrastructure. We still need transportation links and accessible drop-off points. We're thinking big and will hopefully be scaling up to pallets and lorries to distribute on main trunk roads."
The South East gleaning network is supported by a wide community of volunteers, transporters and farmers. They have had storage containers donated to them outside Truro and Redruth that are accessible at all times. However, they are looking to spread containers like these across the country in able to use existing transport links and keep their carbon footprint low.
Katie explained: "The need is already high and is set to grow even higher we need to be as organised and as supported as we can be to be able to support the ones who need it most."
The network in South East Cornwall has hosted many gleans, including fields of broccoli and leeks with plans to do many more.