Fowey farmer and his company are convicted of cruelty to poultry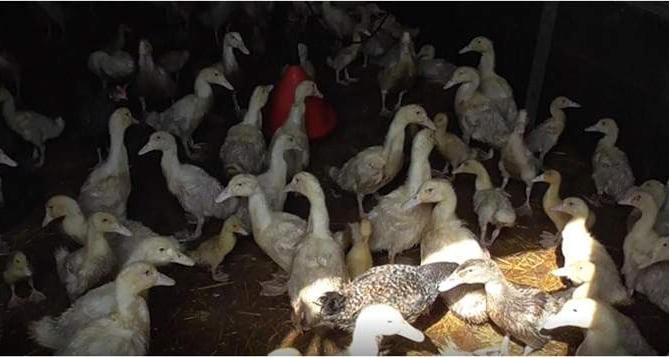 Among other offences, Mr Gourlay and his company Duck Delights were convicted of keeping ducks and chickens in conditions with insufficient light. Picture: Cornwall Council
()
Subscribe newsletter
Subscribe to our email and get updates right in your inbox.
A SOUTH East Cornwall farming business and its owner have been convicted of causing cruelty to ducks and chickens.
Kristian Gourlay, aged 36 from Fowey, and his company, Duck Delights, have been convicted of causing cruelty to poultry.
On 18 November 2021, after a three-day trial at Plymouth Magistrates Court, District Judge Matson convicted Mr Gourlay and his company of:
• Failing to provide ducks and chickens with sufficient light;
• Failing to put to sleep four injured ducks;
• Failing to provide ducklings with dry litter and keeping them in a noxious environment;
• Failing to dispose of 32 duckling carcasses.
Mr Gourlay had previously pleaded guilty to
• Failing to dispose of poultry slaughter waste;
• Failing to record the deaths of poultry;
• Operating a slaughterhouse without a licence;
• Failing to register keeping over 50 birds with the animal and plant health agency.
Mr Gourlay was ordered to undertake 180 hours of community work, pay £3,436 towards the Council's costs, and pay £95 towards victim services.
Duck Delights Ltd was ordered to pay a fine of £1,600, a victim surcharge of £160 and costs of £3,436.
When Cornwall Council's Animal Health Team visited Tremanor Farm, Fowey, on December 9, 2020, they found poultry in sheds with no light and ducks that were unable to walk. They also found that poultry abattoir waste had been dumped in a dung pile.
At a follow-up visit in February 2021, the conditions were found to have improved, but then in June 2021 a shed of ducklings was discovered in appalling conditions. They had wet bedding and the atmosphere was contaminated by high levels of ammonia. Thirty-two ducklings had died and had been trodden into their bedding by the other ducks.
In mitigation, the Court was told that considerable improvements had now been made at the farm and that there was no deliberate cruelty, rather the business had been subject to unexpected interference and had made significant losses due to the Covid pandemic.
Judge Matson said that the cruelty had been long term and in a commercial context, but due to the improvements that have been made, on this occasion a ban and custody was not appropriate.
Jane Tomlinson, Cornwall Council Trading Standards Team Manager – Quality Standards and Animal Health, said "This case involved a new entrant to the farming world, who over time failed to keep his attention on the business, which in turn allowed the animals to suffer."
Councillor Martyn Alvey, Cornwall Council's portfolio holder for environment and climate change said: "This is another shocking case of long-term cruelty to animals. Where officers find non-compliance and a complete disregard for farm animal welfare, the Council will take formal action to protect animals and the reputation of the Cornish farming industry.
"I urge anyone thinking of entering the farming industry to do their research before buying animals. Advice is available from animal health inspectors, colleges and online via the DEFRA website."